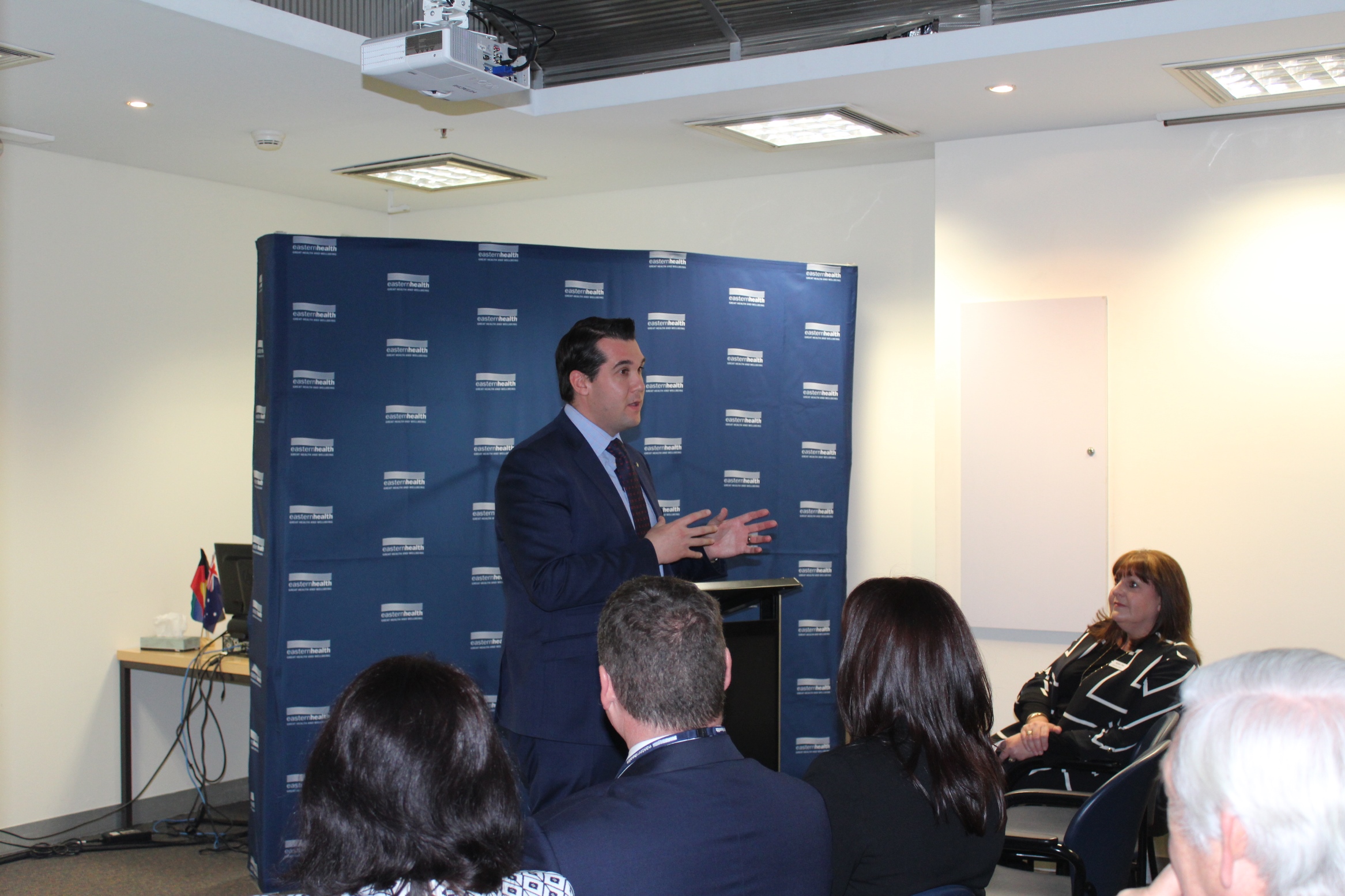 Maroondah Hospital gets MRI licence
Michael Sukkar, Federal Member for Deakin, has delivered on his election commitment to provide patients with more affordable access to the MRI service at Maroondah Hospital.
Mr Sukkar announced today that the Medicare licence for the new MRI (Magnetic Resonance Imaging) service at Eastern Health's Maroondah Hospital would be operational from 1 January 2017.
Made possible by a $7.3 million investment by the Turnbull Government; patients will have access to much-needed bulkbilling facilities.
"The health and wellbeing of our community is a priority for me, and I am delighted to be able to deliver on this election promise today," Mr Sukkar said.
"The Medicare licence means the new MRI service is now more accessible to the public."
"It's great to see facilities at Maroondah Hospital continue to improve."
"The new MRI is a fantastic addition to Maroondah Hospital and a tremendous asset for the Deakin community, being able to diagnose diseases normally not detected by x-ray."
The Minister for Health and Aged Care, Sussan Ley, commented "Providing Medicare eligibility to Maroondah Hospital's MRI unit means patients in the area can receive the best treatment closer to home, and at their convenience, reducing travel and stress during what is often an already difficult time."
Eastern Health Executive Director of Access & Patient Support Services Ms Karen Fox was delighted with the news.
"The Federal Government, and in particular Member for Deakin Michael Sukkar, have been strong supporters of this project. It is absolutely terrific that patients living in the east will now have access to bulkbilling for their MRI tests within their local community," Ms Fox said.
The location of the MRI, combined with bulkbilling will make this test accessible to more people in our community and this is likely to save lives."
The MRI suite opened at Maroondah Hospital in July this year. The MRI machine and the building to house it have been wholly funded and operated by Eastern Health.
The state-of-the-art facility features the Phillips Ingenia 3 Tesla MRI. It is housed in a purpose-built copper-lined room to ensure that radio waves do not interfere with the diagnostic images.
To create a more comfortable and relaxed atmosphere, patients can choose to watch a movie or listen to music while undergoing their imaging procedure.
Ms Fox said there was great demand for the MRI service in the eastern region.
"We are delighted that the Federal Government has fulfilled its promise and provided Maroondah's MRI suite with a full Medicare licence."
"Eastern Health is greatly appreciative of their continued support as we work together to deliver high quality, accessible healthcare which is also more affordable to our community."

Media Contact: Joshua Bonney 03 9874 1711 or for Eastern Health media inquiries, Winston Tan 0407 785 706