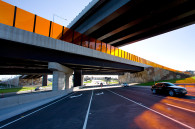 Roads Funding Boost for Deakin Families and Businesses
Deakin will benefit from the Coalition Government's commitment to build the infrastructure of the 21st Century with $1.5 million for local road projects announced in the 2014-15 Budget.
This is part of the Government's Economic Action Strategy to invest a record $7.6 billion in productivity-enhancing infrastructure in Victoria which will create thousands of jobs, slash travel times and boost economic growth.
Federal Member for Deakin, Michael Sukkar, said the funding will support much-needed infrastructure projects in the electorate.
"These projects will reduce congestion on our local roads, improve safety for pedestrians and motorists, and boost productivity for small businesses," Mr Sukkar said.
Mr Sukkar said two roads projects in the Deakin electorate will receive funding;
• Bedford Rd & Great Ryrie St Intersection Upgrade (Ringwood): $1,000,000 contribution
• Surrey Rd & Junction Rd Intersection Upgrade (Blackburn North): $500,000 contribution.
"Our community has been calling for these road upgrades for a very long time and, as part of a Coalition Government, I have listened to these calls and worked hard to secure funding in this Budget for these critical road projects for Deakin," Mr Sukkar said.
"Projects like these will relieve pressure on existing infrastructure and help to unlock the economic capacity of Deakin, making it an even better place to live and do business.
"They are in addition to the Government's $3 billion commitment to building the East West Links, which will slash travel times for Deakin families, help local businesses to get their goods and services to market faster and create more than 6000 jobs during construction."
The Abbott Government's infrastructure package will drive growth and create jobs so that we can have a stronger, more prosperous economy for all residents in Deakin.
Further information can be found at http://investment.infrastructure.gov.au/projects/.