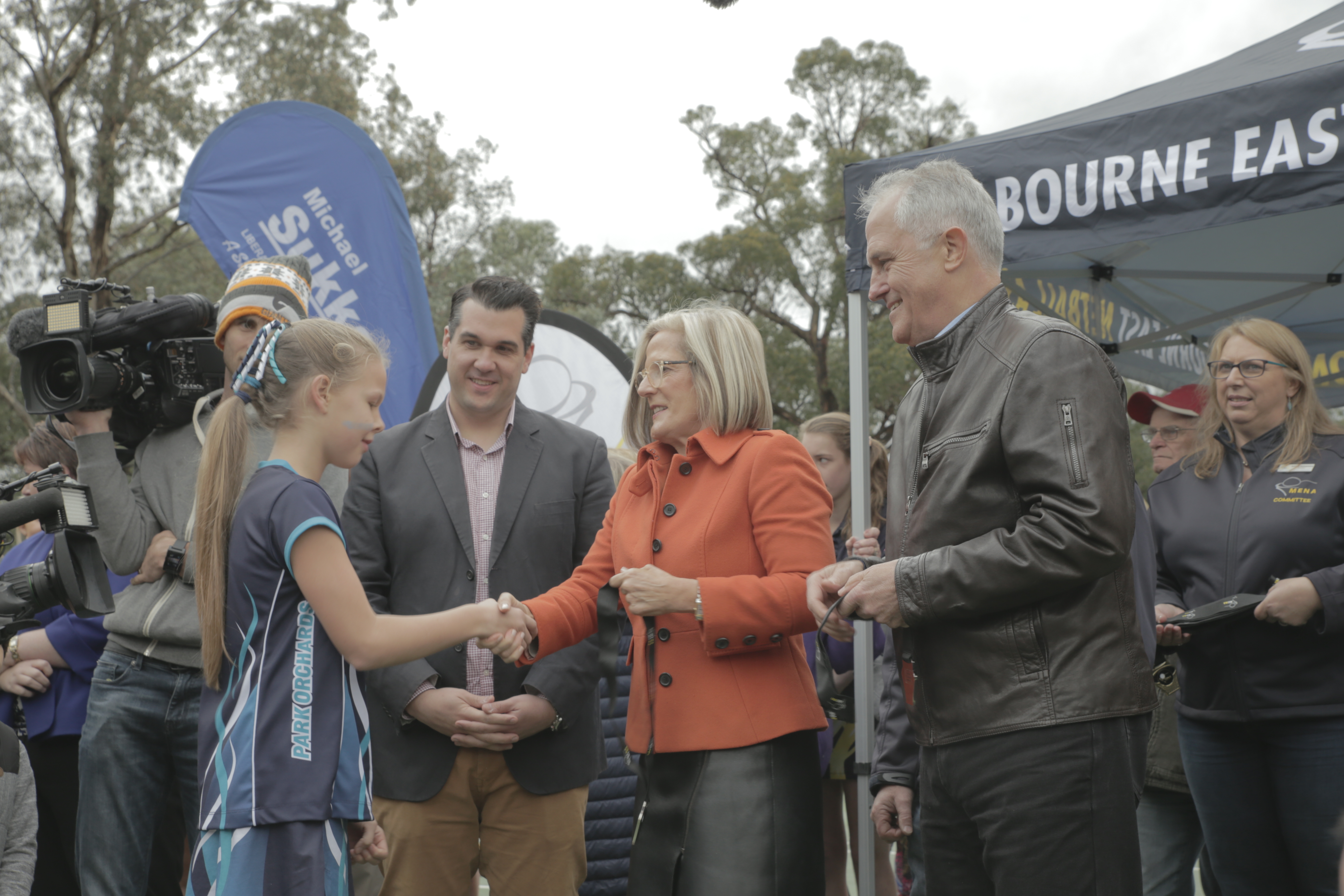 $10.5 million secures future of netball in Melbourne's east
Michael Sukkar, Federal Member for Deakin, attending the Melbourne East Netball Association's Grand Final Day at H E Parker reserve in Heathmont announced that a re-elected Turnbull Coalition Government will invest $10.5 million for a new regional netball centre in Deakin.
Speaking in front of the Grand Final Day crowd, Michael said that today's commitment is the result of years of work since he had first raised the prospect of a regional netball centre in 2013.
"With the support of the local netball associations I have fought tirelessly to secure funding for this project over the past three years, and I am excited to announce that re-elected Turnbull Coalition Government will invest $10.5 million for a new regional netball centre in Deakin," Michael said.
"Netball has always been a popular sport in Australia. We have produced some of the world's best players, with repeated success on the international stage.
"My hope is to produce the next Liz Ellis playing for the Australian Diamonds or Melbourne Vixens coming out from our local competitions, which will be played in the new venue."
Participation in local netball competitions is rapidly increasing as the popularity of the national competition gathers larger crowds and audiences, especially with televised coverage of the ANZ Championship.
In Maroondah there are around 3,600 registered players with the two netball associations – Melbourne East Netball Association (MENA) and Ariels Victorian Churches Netball Association (Ariels).
"In the eastern region of Melbourne alone there are around 20,000 registered players, who will now have access to best competition facilities," Michael said.
The new regional indoor netball stadium is designed to have four indoor courts, including a show court, with an indoor seating capacity for 500 spectators, and four outdoor floodlit courts with seating capacity for 200 spectators.
Amenities at the new indoor netball stadium will include four unisex change rooms, two unisex umpire rooms with toilet and shower, office space and a first-aid room.
MENA President, Kylie Spears, said there is a growing demand for quality facilities for women's sport, and the new facility will enable MENA to further promote and expand netball to a wider audience including all abilities competitions, mixed, men's and more women's netball.
"This is a win for local sport, and in particular local women's sport. Having an indoor facility will allow netball to be played in all weather conditions, on a surface which allows players to compete with a lower risk of injury," Kylie said.
"We thank Michel Sukkar for his advocacy and support of this project."