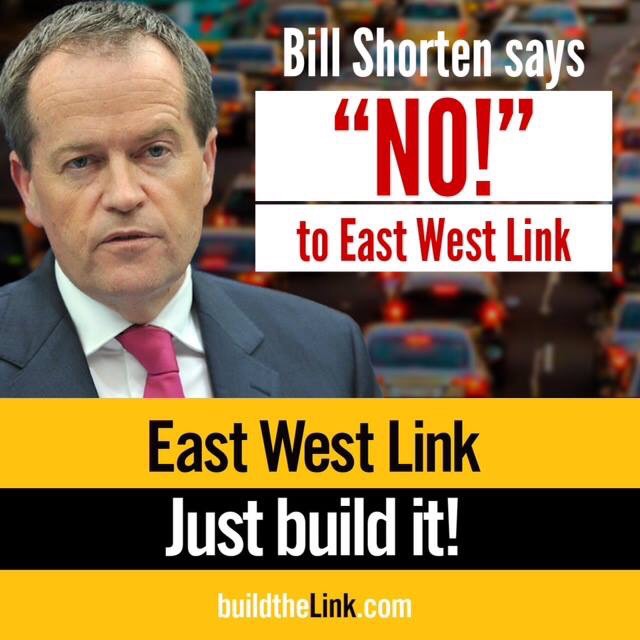 Bill Shorten: Don't put Dan Andrews and Labor ahead of Victorians
Today, Michael Sukkar, Federal Member for Deakin has called on Bill Shorten to stand up to his Labor mates, and repudiate Premier Andrews' reckless decision to tear up the East West Link contract.
The Federal Government has committed $3 billion to get the shovel ready East West Link project underway, create jobs, decongest Victorian roads, and open Victoria up for business.
The Andrews Labor Government's economic vandalism over the ripping up of the East West Link contracts, and signing into law exemptions from paying compensation for cancelling the legally binding contracts, threatens the integrity and confidence of doing business in Australia.
Economists and business leaders have unanimously warned that tearing up the East West Link contract would pose a sovereign risk, destroy the creation of up to 7,000 new jobs, and slow economic growth. It will also mean Deakin residents spend up to an additional three hours every week, stuck in traffic.
Last week Bill Shorten admitted to Victorians that it is a serious matter if there are properly enforceable legal contracts in place for billions of dollars, and pointed to the negative effect tearing up those contracts would have on confidence when doing business in Australia.
But Labor's Bill Shorten has shown he is incapable of standing up to his Labor mates in government in his own home state of Victoria, despite his conflicting views with Daniel Andrews on tearing up the East West Link contracts.
It's time for Mr Shorten to show leadership, put pressure on Daniel Andrews not to waste billions of dollars of taxpayer's money, and support the construction of this critical piece of infrastructure.