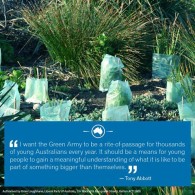 Coalition Delivering Three Green Army Projects in Deakin
The Coalition Government is delivering another key election commitment with legislation to establish the Green Army introduced this week to Parliament, the Federal Member for Deakin, Michael Sukkar, said today.
The Green Army Programme is a key plank in the Government's Cleaner Environment Plan under the Clean Land pillar.
Green Army is a voluntary programme that will encourage hands-on, practical, grassroots action to support local environment and heritage conservation projects across Australia.
It's an opportunity for young people in Deakin, aged 17 to 24 years, to gain training and experience in environmental and heritage conservation fields and explore careers in conservation management.
"In my electorate of Deakin, the Government has committed to three important projects that will help improve our local environment," Mr Sukkar said.
"The Green Army will be tasked with helping to rehabilitate and rejuvenate the Heatherdale Creek in Mitcham, the Blackburn Lake Sanctuary and Croydon's Eastfield Park, including through the removal of noxious weeds and extensive replanting of native vegetation.
"I am currently working with the Environment Minister in having these projects rolled out as soon as possible."
"The application process for new projects will also open shortly and I will be fighting for further projects in Deakin to be delivered for the community."
The Green Army Programme will provide benefits to both the environment and community.
"The Green Army will make a real difference to the environment and our local community in Deakin through projects restoring and protecting habitat, weeding, planting, cleaning up water systems and restoring cultural heritage places," Mr Sukkar said.
"In addition to that the participants will be paid an allowance and gain valuable skills in conservation management, teamwork and discipline in waking up each morning and committing to work."
The Australian Government will shortly be undertaking a tender process for Service Providers, who will engage the Green Army Teams and supervisors, manage activities to ensure projects are completed safely and report regularly on progress.
Projects may be carried out across urban, regional and remote Australia on public land, Indigenous-held lands, or private land where there is a clear community and environmental and heritage benefit.
If you have an idea for a Green Army project in Deakin, please contact my office on 9874 1711 or email Michael.Sukkar.MP@aph.gov.au
Further details on the Green Army are available online at www.environment.gov.au/topics/cleaner-environment/clean-land/green-army