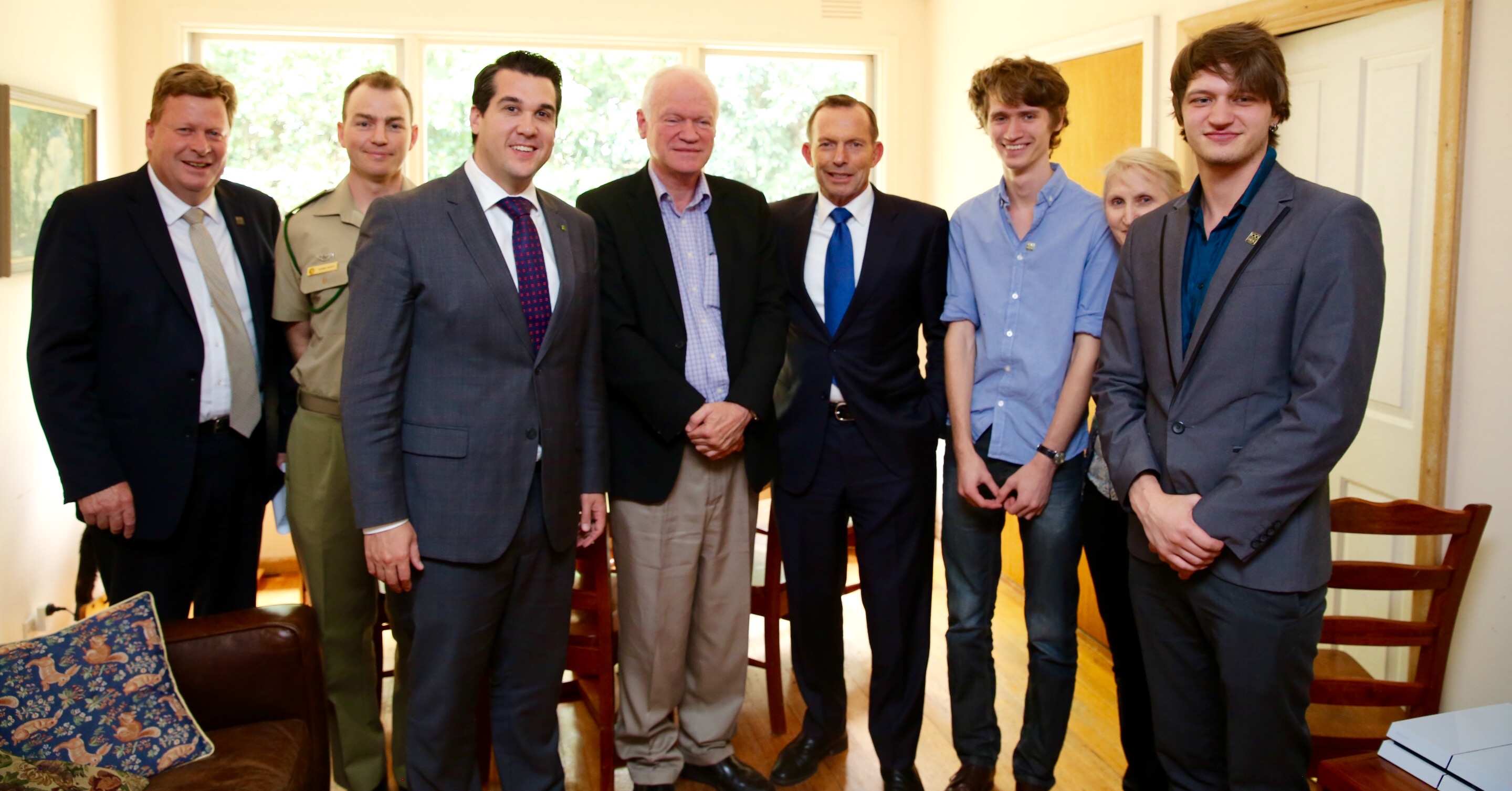 Deakin Resident Receives First Gallipoli Pass
The wait is over for Australians attending Anzac Day commemorations at Gallipoli this year, with attendance passes to begin arriving in the mail from today.
Prime Minister the Hon. Tony Abbott MP, yesterday joined the Minister Assisting the Prime Minister for the Centenary of ANZAC, Senator the Hon. Michael Ronaldson, and Federal Member for  Deakin Michael Sukkar in visiting ballot recipient Mr Kimberley Cornish of Blackburn North to present him with the very first double attendance pass.
Mr Cornish is the son of First World War veteran Albert Edwin Spencer Cornish who fought and was wounded at Gallipoli in 1915.
Mr Cornish will take his son Dominic to the service at Anzac Cove where he will also be met by his brother Christopher, who was also successful in the ballot.
"I am pleased to be here with the Prime Minister and the Minister to mark the beginning of the Anzac Day Dawn Service mailout by personally delivering the first double attendance pass to a local direct descendant of one of our Gallipoli veterans," Mr Sukkar said.
"Kimberley's father Albert Cornish was 37 years old when he left his job as a station and stock hand in Western Australia to volunteer for the Australian Imperial Forces in February 1915.
"He trained in Egypt before joining the 10th Light Horse at Gallipoli, suffering a gunshot wound to the head in October that year before being evacuated and ultimately discharged and returned to Australia in 1916.
"Albert's story is one of 420,000 similarly brave examples of those who volunteered to serve our country in the First World War and I wish Kimberley, Christopher and Dominic all the best at Gallipoli for the Centenary of Anzac next month," Mr Sukkar said.
Senator Ronaldson said the Centenary of Anzac would be our nation's most significant period of commemoration and encouraged all Australian's to participate on one of the many services that will take place on Anzac Day.
"For those who have received passes to the Gallipoli Dawn Service, they will be sent to the primary pass holder's nominated address via express post over the coming weeks," Senator Ronaldson said.
"Those without attendance passes to the Anzac Day commemorations may consider visiting Gallipoli on 6 August 2015 for the Battle of Lone Pine Centenary commemoration service. The Battle of Lone Pine saw some of the fiercest fighting of the Gallipoli campaign.
"Australians may also consider attending another Dawn Service in Australia or overseas or watch the television broadcast of the Gallipoli and Villers-Bretonneux services on the ABC," Senator Ronaldson said.
Australian passport holders travelling to Gallipoli must obtain a Turkish entry visa before leaving home. The application is available online at www.evisa.gov.tr and costs US$60 per visa.
Australians are also encouraged to register their travel on the Smartraveller website at www.smartraveller.gov.au
Gallipoli Dawn Service attendees who depart Australia before receiving their passes can collect them from a Ticketek pop-up office in Eceabat, Turkey from 20 to 23 April. Information on location and opening times can be found at www.gallipoli2015.dva.gov.au.
Gallipoli Dawn Service attendees who have not received their passes by the beginning of April should contact Ticketek on 1300 364 002 or email gallipoli2015@dva.gov.au.