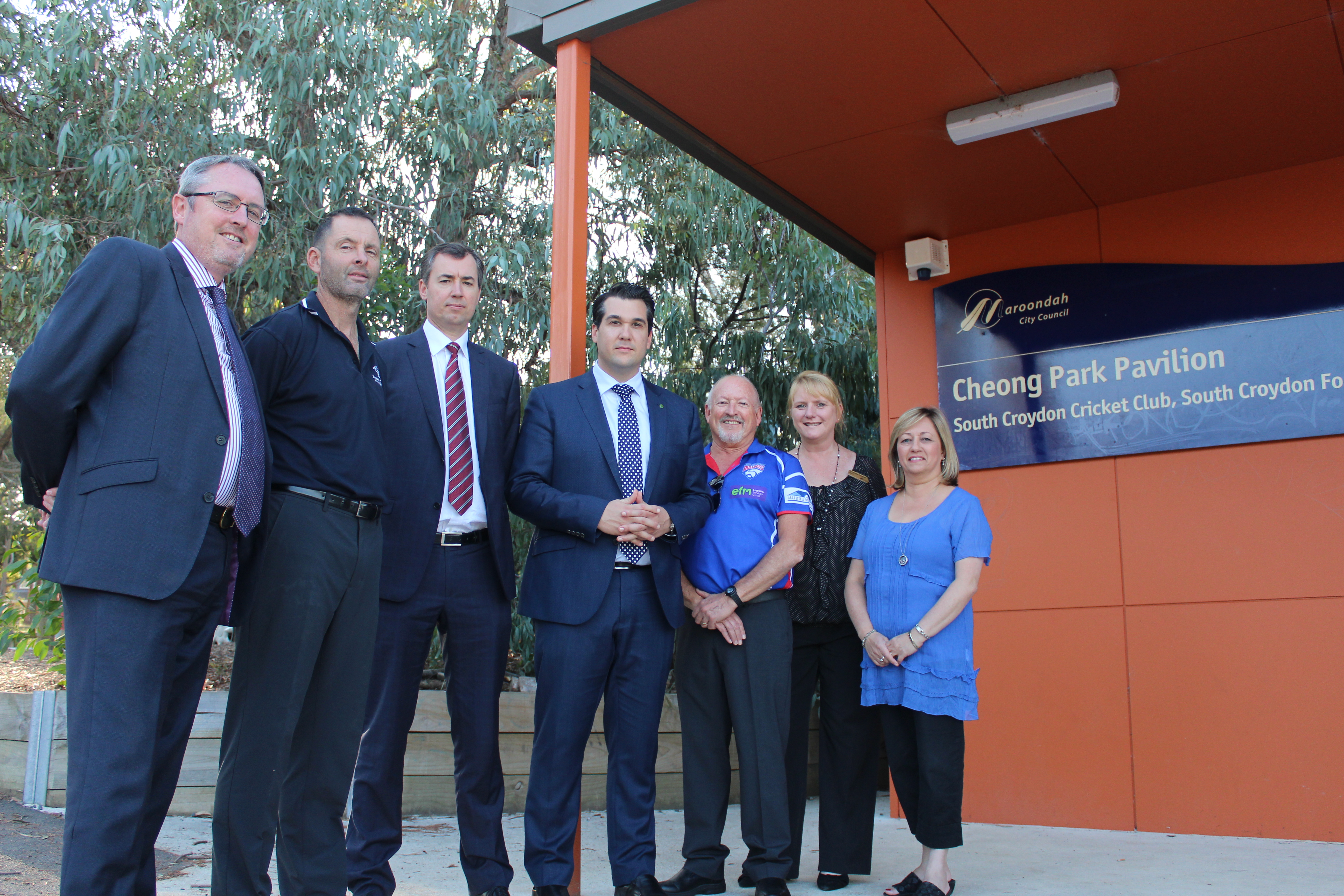 Delivering Safer Communities at Cheong Park in Croydon
Michael Sukkar, Federal Member for Deakin, has today announced a re-elected Turnbull Coalition Government will provide $21,000 for the installation of CCTV at South Croydon Cricket Club in Cheong Park.
The funding has been committed under the Coalition's $40 million Safer Communities Fund.
Michael said that he has worked closely with representatives of South Croydon Cricket Club and local ward councillors to work through the details of the installation of the CCTV system at the Cheong Park club rooms.
"There are a number of sporting clubs using the facilities at Cheong Park, including cricket, football, basketball and netball. Other community groups use these facilities out-of-hours, and we want to make sure the premises are not vandalised, graffitied, or broken into," Michael said.
"The South Croydon Cricket Club has invested a significant amount of money to improve the standard of facilities at the park, and they would like to see that things like their training nets and grounds are not ruined by vandals.
"There is also a children's playground and barbecue area nearby, so we want to create a family friendly environment, and make sure the whole community gets to enjoy this park as a safe space."
South Croydon Cricket Club president, Luke Henderson, said the club is pleased with the commitment of funding for the installation of CCTV at Cheong Park.
"Along with the Maroondah City Council, we have invested significant funds and resources in developing the facilities, amenities and grounds and now thanks to the efforts of our local member, Michael Sukkar, they will be better protected," Mr Henderson said.
"It is vitally important that the facilities are secured for the benefit of us, local families and visitors so that they can safely utilise, year round, everything Cheong park has to offer."
The Safer Communities Fund delivers on the Coalition's ongoing commitment to keep Australians safe and secure.
Only safe communities can be strong and prosperous, and the best way to tackle crime and anti-social behaviour is to prevent it happening.
The $40 million Safer Communities Fund will consist of two streams.
Stream one will boost the efforts of identified local governments and community organisations to address crime and anti-social behaviour by funding crime prevention initiatives (such as fixed and mobile CCTV and lighting).
Stream two will boost efforts to protect schools, pre-schools and community organisations that are facing security risks associated with racial or religious intolerance.
This new $40 million fund will build on the previous work the Coalition undertook during Government through the Safer Streets Programme and the Schools Security Programme.
Minister for Justice Michael Keenan said the Coalition's community safety record was solid.
"The Coalition has now committed more than $100 million purely to assist local communities in delivering strategies to address crime and anti-social behaviour," Mr Keenan said.
"We will continue to put funds towards projects that make our streets, communities and our nation safer." Mr Keenan said.