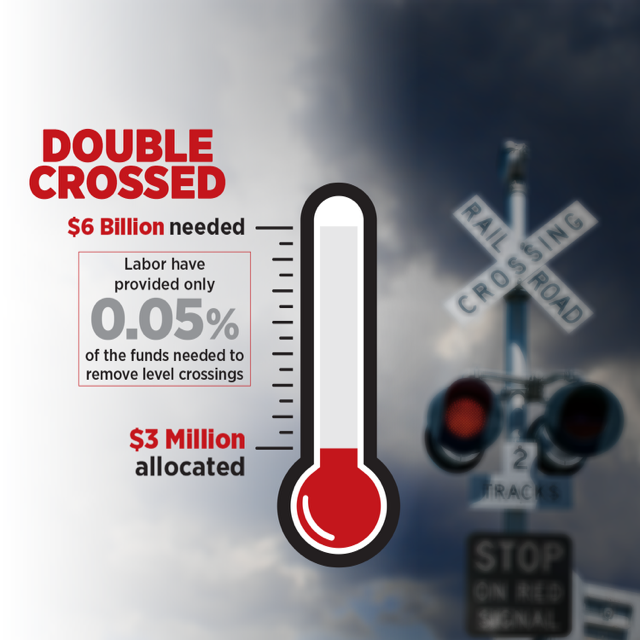 Labor threatens Deakin residents over level-crossing removal
In yet another slap to the face of Deakin residents, Labor is now threatening to cancel upgrades to train stations in the eastern suburbs, after cancelling investments in the East West Link road project.
Michael Sukkar, Federal Member for Deakin, said, "We can now see a very disturbing pattern of behaviour coming from Labor, with continual threats to residents in Melbourne's eastern suburbs.
"It is completely unacceptable for Labor to hold funding for investments in roads and rail in Melbourne's east over the heads of Deakin residents."
In a shock to Deakin residents, this morning Labor threatened to pull funding allocated in last year's state budget to remove the level-crossing at the Blackburn railway station.
"Labor's candidate for Deakin needs to explain to residents, who commute along the Lilydale/Belgrave train lines, why he stands shoulder-to-shoulder with Daniel Andrews on cancelling funding for safety upgrades along the line," Michael said.
"Yet again, this comes on top of his support of Bill Shorten and Daniel Andrews' decision to waste $640 million of taxpayer's money cancelling the job-creating, congestion busting East West Link road project."
Investment in the Blackburn Road level-crossing removal, fully funded in the 2014-15 Victorian Budget, is in jeopardy after Labor threatened to cancel the rail safety project.
"This fully funded level-crossing removal will make it safer and easier for cars, trains and pedestrians using Blackburn Road, but Labor wants to take this money away from local residents.
"On my watch, as the elected representative of the people of Deakin, I cannot allow Labor to threaten the very people I am responsible for looking after. I will not allow threats to Deakin residents that will affect the livelihood of families and businesses in my neighbourhood," Michael said.