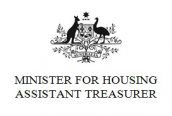 $1.5 MILLION COMMUNITY HOUSING GRANT PROGRAM LAUNCHED
Minister for Housing and Assistant Treasurer, Michael Sukkar, today welcomed the launch of the $1.5 million Capacity Building Program aimed at facilitating the delivery of additional social and affordable rental housing.
The grants program was funded in the 2017/18 Federal Budget through the National Housing Finance and Investment Corporation (NHFIC).
The Capacity Building Program will assist community housing providers to access finance from the NHFIC.
Community Housing Providers (CHPs) will be able to receive grants up to $20,000, allowing them to engage professional advisory services to assist them with preparing the necessary finance, business planning work, property development and risk management to support their NHFIC loan application.
The Community Housing Industry Association Limited will administer the program on behalf of the NHFIC.
"These grants will be particularly useful in assisting CHPs to get the specialist advice necessary to expedite their proposals." Mr Sukkar said.
"This will mean CHPs are able to get their projects up and running in a timely manner, ultimately benefitting tenants and those who require access to community housing."
The Morrison Government is also working in partnership with the States and Territories to provide a range of affordable housing options for people who require them.
Applications for the Capacity Building Program grants will open on 1 July 2019.