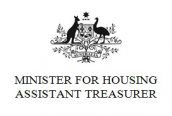 $40 MILLION LOAN TO SUPPORT SOCIAL AND AFFORDABLE HOUSING PROJECTS ACROSS SYDNEY
THE HON MICHAEL SUKKAR MP
Minister for Housing and Assistant Treasurer, Australian Government
THE HON MELINDA PAVEY MP
Minister for Water, Property and Housing, Government of New South Wales
MEDIA RELEASE
The Morrison Government's housing finance body is forging ahead with loans to boost the supply of social and affordable housing, today announcing approval of a $40 million, 10-year low-interest loan to Community Housing Provider (CHP) Bridge Housing.
The National Housing Finance and Investment Corporation (NHFIC) loan will allow Bridge Housing to refinance debt on four existing projects in Glebe, Bunya, Ashfield and Parramatta, on much more favourable terms. It will also fund the acquisition and refurbishment of a new project in Punchbowl and a new development in Dulwich Hill.
Visiting the 158-dwelling development in Glebe, Minister for Housing and Assistant Treasurer, Michael Sukkar welcomed the announcement.
"This $40 million loan from NHFIC will support nearly 300 new and existing social and affordable housing dwellings across Sydney," Minister Sukkar said.
"Through NHFIC, the Morrison Government is enabling CHPs to access finance on terms vastly more favourable than they have been able to before.
"The lower cost and longer term finance available through NHFIC provides greater certainty and delivers substantial savings to CHPs. This helps CHPs to then grow their housing stock, meaning better access to secure, affordable housing for more Australians.
"NHFIC's unique financing facility also puts CHPs in a position to partner further with state and territory governments on new projects to bring forward and increase the supply of social and affordable housing."
New South Wales Minister for Housing Melinda Pavey said the Elger Street site in Glebe, owned by Bridge Housing and constructed by NSW Land and Housing Corporation, demonstrated the very positive outcomes for people in need.
The New South Wales Government strongly supports the Federal Government's NHFIC initiative which seeks to assist Australia's community housing sector to grow in scale with the aim of expanding and accelerating the delivery of more social and affordable housing.
"Access to finance on favourable terms will improve considerably the capacity of community housing providers to borrow for new supply or refinance existing loan facilities," Minister Pavey said.
"This is a great step forward in our efforts to increase the supply of social and affordable housing in New South Wales".
The establishment of NHFIC was announced in 2017-18 Federal Budget and commenced operation on 1 July 2018.
Media contact:
Anthony Moate 0428 697 041 (Minister Sukkar)
Emma Watts 0437 881 727 (Minister Pavey)