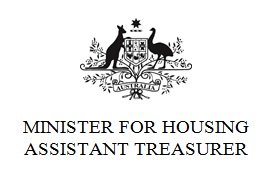 First NHFIC Construction Loan Accelerates Supply of Social and Affordable Housing
The Hon Michael Sukkar MP
Minister for Housing and Assistant Treasurer, Australian Government
THE HON MELINDA PAVEY MP
Minister for Water, Property and Housing, Government of New South Wales
MEDIA RELEASE
The Morrison Government's action to increase and accelerate the supply of social and affordable housing achieved a significant milestone today with the announcement of the National Housing Finance and Investment Corporation's (NHFIC) first construction loan.
Minister for Housing and Assistant Treasurer, Michael Sukkar welcomed NHFIC's commencement of construction lending.
"Approving the first construction loan is a significant milestone and forms an important part of the role NHFIC plays in delivering affordable housing," Minister Sukkar said.
"Through NHFIC, the Morrison Government is accelerating and adding to the supply of social and affordable housing for Australians."
Announced in 2017/18 Federal Budget, NHFIC commenced operation on 1 July last year as an independent corporate Commonwealth entity dedicated to improving housing outcomes.
NHFIC offers loans, investments and grants to encourage investment in housing, with a particular focus on affordable housing and is a key part of the Australian Government's plan to help reduce pressure on housing affordability.
"After only 12 months of operation, NHFIC is already supporting the delivery of at least 560 new affordable rental properties," Minister Sukkar said.
"Today's announcement of a two-year $45.7 million low-interest loan, to community housing provider BlueCHP, will fund the construction of some 93 new homes in affordable housing projects at Lane Cove and Liverpool.
"Improved access to lower-cost, longer tenor finance through NHFIC is enabling community housing providers to scale up and save on costs.  Savings that can be reinvested into things like tenant services and the supply of more affordable rental housing.
"The success of NHFIC's first social bond earlier this year and strong demand for NHFIC's products from community housing providers will see this growth in the provision of new affordable rental homes continue to gather pace."
The finance provided by NHFIC will enable BlueCHP to retain 48 of the 93 new dwellings once construction is complete to provide affordable housing, including for people with disabilities.
The projects are also adding to the supply of new social housing with at least 24 dwellings being delivered to the NSW Land and Housing Corporation from whom the sites are being purchased under the NSW Government's Communities Plus program.
This program is the largest of its kind and will deliver up to 23,500 new and replacement social and affordable dwellings over the next 10 years.
New South Wales Minister for Housing, Melinda Pavey said it is wonderful to be given the opportunity to help build more social and affordable housing, transforming the lives of our most vulnerable.