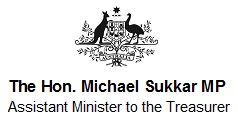 LABOR ONLY CERTAIN ABOUT ONE THING – HIGHER TAXES FOR SMALL BUSINESS
Labor's rush to cover up a train wreck interview from one of their MPs just demonstrates once again their intent to whack small and medium hard-working Australian businesses with higher taxes.
Having heard his Labor colleague Peter Khalil say Labor supported the Turnbull Government's legislated tax cuts for businesses with turnovers of up to $50 million, Shadow Finance Minister Jim Chalmers couldn't race to find a camera quick enough to once again confirm Labor would reverse that tax relief, jacking up taxes on 3.2 million Australian businesses employing over 6.5 million Australians.
Mr Khalil must have skipped the class warfare lesson taught by Bill Shorten. He hadn't realised that a Labor MP should be outraged with the very suggestion that small and medium businesses should be able to keep more of the money they make to invest in their business, hire more Australians and pay them more, rather than hand it over to the Labor Party.
And he clearly hadn't learnt that when it comes to taxes, Labor only wants to raise them. That's why they've proposed a $164 billion tax hit to the economy, as costed by Treasury.
The way Mr Khalil was shouted down for having the audacity to suggest you do not achieve economic growth, more jobs and higher wages by hitting businesses with more tax, speaks volumes about just how economically bereft the Labor Party have become under Bill Shorten.
Fresh from a year of delivering record jobs growth, with over 400,000 Australians getting into work in 2017, the Turnbull Government will continue to act to ensure a stronger economy so Australians have more opportunities to get ahead.