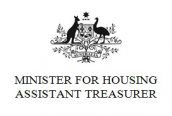 NHFIC FIRST HOME LOAN DEPOSIT SCHEME TREND AND INSIGHT REPORT UNDERSCORES ITS SUCCESS
THE HON MICHAEL SUKKAR MP
Minister for Housing and Assistant Treasurer
MEDIA RELEASE
31 August 2020
NHFIC FIRST HOME LOAN DEPOSIT SCHEME TREND AND INSIGHT REPORT UNDERSCORES ITS SUCCESS
New data today shows the Morrison Government's successful First Home Loan Deposit Scheme has helped get Australians into a home of their own up to four years earlier than they had planned.
The National Housing Finance and Investment Corporation (NHFIC) Trend and Insight Report, released today, shows the Scheme had an outstanding first year and has delivered on our promise to help get Australians into their first home sooner.
The Report also found the Scheme supported one in eight of all first home buyers who purchased a home in Australia between March and June 2020.
Australia's essential workers secured one in six of the Scheme's guarantees and around three quarters of guaranteed loans were taken up by Australians aged between 18 and 34 years of age.
Guaranteed loans were secured in all parts of the nation with major cities attracting 62.3 per cent of buyers under the Scheme, while 37.7 per cent purchased in regional areas.
The largest amount of applications for guaranteed loans, 46.1 per cent, were made through mortgage brokers.
Almost 70 per cent of buyers using the Scheme purchased a detached house, with 25 per cent buying an apartment and five per cent purchasing a townhouse.
The Morrison Government is committed to doing all we can to help Australians get into a home of their own sooner.
In addition to the First Home Loan Deposit Scheme, we have also delivered the First Home Super Saver Scheme and HomeBuilder, which together, represent an unprecedented level of Federal Government assistance for home buyers and the construction industry alike.
The NHFIC First Home Loan Deposit Scheme Trend and Insight Report can be found at: https://www.nhfic.gov.au/.