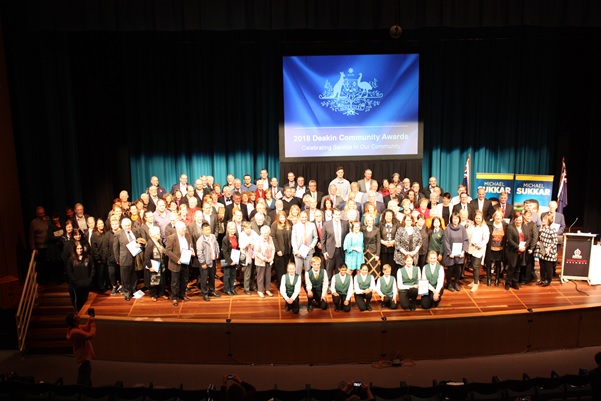 2018 Deakin Community Awards
Over 120 award recipients from across Whitehorse and Maroondah were honoured at this year's Deakin Community Awards hosted by Michael Sukkar, Federal Member for Deakin.
Over eight hundred people converged on Yarra Valley Grammar's George Wood Performing Arts Theatre to celebrate the invaluable contribution of Deakin's 120 most humble, dedicated, and passionate local heroes.
The Deakin Community Awards is an initiative presented by Michael Sukkar to honour the community spirit and selfless contribution of our unsung local heroes.
"The strength of our community does not rest in formal institutions, but those individuals who tirelessly work to make Deakin a better place for everyone that lives here," Michael said.
"The service of those recognised tonight cannot be understated. They do what they do without expectation of reward or praise.
"Their only motivation is to leave our community in a better place than where they found it."
The overall Deakin Community Award winner, Edwina Ricci, was recognised for her years of service to a number of community organisations like the Croydon Chamber of Commerce, Croydon Rotary, SALT, City of Well Being, and local schools.
Edwina was selected by a panel of community representatives from both Whitehorse and Maroondah, along with four other category winners – Mark Freeman from Ringwood Cricket Club (open category winner), Madeline Sweeney from Park Orchards Netball Club (youth category winner), John Oettinger from North Ringwood Care (seniors category winner), and The Babes Project (group category winner).
Michael thanked all the local community groups, clubs and organisations that participated in this year's awards.
"Congratulations to all award recipients, and thank you to all those who made this year's award ceremony an exceptionally special evening," Michael said.