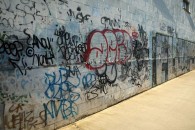 Coalition Pitches In to Clean Up Graffiti in Deakin
Deputy Leader of the Opposition, the Hon Julie Bishop MP, today announced a Coalition Government would provide $80,000 towards a local graffiti removal program as part of Michael Sukkar's campaign to improve community safety in Deakin.
Ms Bishop joined the Liberal Candidate for Deakin, Michael Sukkar, and Liberal Senator for Victoria, Helen Kroger, to make the funding announcement in Nunawading.
"Michael is working very hard to improve public safety in his community and I am delighted to be able to announce today that, if elected on September 7, the Coalition provide $80,000 in funding to purchase a truck that will be specifically retro-fitted to clean up graffiti," Ms Bishop said.
"The Coalition is committed to supporting local communities to tackle crime and anti-social behaviour and today's announcement is just the latest in a series of safety initiatives to improve the lives of people living and working in Deakin."
Mr Sukkar said he had worked closely with local residents, businesses and the Whitehorse Council on plans to deter vandalism.
"As a local resident I share the frustration of the community who are fed up with seeing property damaged by heartless vandals," he said.
"Today's announcement will enable the Whitehorse Council to purchase a truck fitted with a hot water pressure unit to respond rapidly to reports of vandalism and remove unsightly graffiti from public assets.
"Making our area a safer place to live, work and raise a family is one of my key priorities."
"As part of the Coalition's Plan for Safer Streets, I have already announced funding commitments to support the outstanding efforts of police in tackling local crime, including CCTV cameras in Ringwood and Ringwood East and security lighting in and around Station Street, Nunawading.
"If I am fortunate enough to be elected, I will continue to work with community to provide crime prevention infrastructure to make Deakin safer."