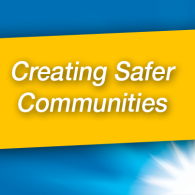 Community safety campaign continues with Ringwood CCTV cameras
Michael Sukkar, Liberal Candidate for Deakin, has continued his campaign to improve community safety in Deakin, today announcing a Coalition Government would provide $200,000 toward live feed CCTV cameras in central Ringwood.
Leader of the Opposition in the Senate and Shadow Minister for Employment and Workplace Relations, Senator the Hon Eric Abetz, and Liberal Senator for Victoria, Helen Kroger, joined Mr Sukkar for the announcement.
"Our candidate for Deakin, Michael Sukkar, has been working tirelessly to secure funding for community safety projects in his electorate and I am pleased to announce today that he has, once again, been successful," Senator Abetz said.
"If elected, a Coalition Government would provide $200,000 to install CCTV cameras in central Ringwood, including the notorious nightclub precinct, to help police to combat anti-social behaviour and crime.
"Through our Plan for Safer Streets, the Coalition is working with communities throughout the country to tackle local crime by providing $50 million in grants for crime prevention infrastructure such as CCTV and better lighting."
Mr Sukkar said local residents and traders had repeatedly raised with him their concerns about anti-social behaviour and crime in the area.
"I have listened to these concerns and worked closely with Maroondah Council to secure funding for more CCTV cameras in the Ringwood Activities Area (RAA)," he said.
"The Shadow Minister for Justice, Michael Keenan, and I visited the Ringwood Police Station earlier this year to inspect the existing surveillance set-up and discuss their priorities for expanding the CCTV camera network.
"Ringwood is set to undergo a significant redevelopment, attracting thousands more people into the area to work and shop, and these additional resources will provide a boost to police who do an exceptional job of keeping our community safe."
"Community safety is a priority for me and I will continue to fight for Deakin to get its fair share of funding for safety initiatives."
Today's announcement comes after Mr Sukkar last week announced up to $200,000 for live-feed CCTV cameras in Railway Avenue, Ringwood East.