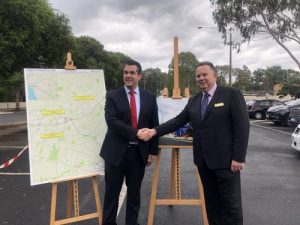 Congestion Busting Fund to Fix Transport Infrastructure in Deakin
$45 million will be provided to build three multi-level car parking facilities at Croydon, Ringwood and Mitcham railway stations.
$2.5 million upgrade at Plymouth Road to improve safety and reduce traffic congestion.
The Australian Government's $1 billion Urban Congestion Fund will deliver an upgrade to Plymouth Road in Croydon, and build three commuter car parks at Croydon, Mitcham and Ringwood train stations as part of $261.3 million to be invested in projects across Victoria.
Prime Minister Scott Morrison said the Urban Congestion Fund, announced in the 2018–19 Budget, would tackle pinch points on urban road networks that contribute to congestion, saving motorists and businesses time and money.
Federal Member for Deakin, Michael Sukkar, said work on these vital projects has commenced and would deliver improved pedestrian and commuter safety as well as reduce congestion around busy train stations.
"The Government is investing $2.5 million for upgrades to Plymouth Road to improve safety and reduce congestion. These upgrades will make school drop-offs and pick-ups safer for students and parents at local schools as well as take pressure off local roads around the McAdam Square Shopping Centre".
Mr Sukkar said the Government would provide funding to build three multi-storey car parks at Mitcham, Ringwood and Croydon train stations. "I am proud to have secured funding for this critical infrastructure that will support our public transport system. Improving commuter access at our local train stations will reduce congestion on our roads and further encourage commuters onto public transport".
The Australian Government has committed $15 million for each train station car park and will deliver more than 1,400 train station car parks, including 487 car parks at Croydon, 482 car parks at Ringwood and 500 car parks at Mitcham.
"This investment and the broader Urban Congestion Fund are all about reducing travel times and vehicle operating costs, delivering a more reliable road network for commuters and freight, and supporting critical last-mile access to ports, airports, employment centres and freight hubs – where freight is most reliant on roads."
Projects funded – Deakin: 
| | |
| --- | --- |
| Project: | Australian Government contribution: |
| Plymouth Road improvements | $2.5m |
| Commuter Car Park Upgrade – Mitcham | $15m |
| Commuter Car Park Upgrade – Croydon | $15m |
| Commuter Car Park Upgrade – Ringwood | $15m |