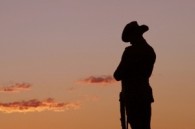 Deakin community receives funding boost for Centenary of Anzac commemorations
Federal Member for Deakin, Michael Sukkar, today announced that funding for the Anzac Centenary Local Grants Program (ACLGP) had increased to $125,000.
"The Centenary of Anzac will be the most significant national period of commemoration in our nation's history, and the Anzac Centenary Local Grants Program is an integral part of the Coalition Government's commitment to local commemorations in Deakin," Mr Sukkar said.
"The Coalition Government has increased funding available for Deakin by $25,000, ensuring that the local community will have up to $125,000 available to commemorate the Centenary of Anzac."
Mr Sukkar asked members of the Deakin community to propose ideas for local events or activities to commemorate the Centenary of Anzac.
"It is important that our community works together to ensure that we pay appropriate tribute to those locals who answered the call to serve their nation, along with many who made the ultimate sacrifice in defence of our values and beliefs," he said.
"The Anzac Centenary Local Grants Program will give the Deakin community the opportunity to honour the service and sacrifice that epitomizes the ANZAC spirit. There are many different ways this can be done – from traditional dawn services and marches of veterans, through to re-enactments of recruiting marches, school-based education programmes, refurbishing of memorials and honour boards, and the establishment of new places of commemoration and reflection.
"We are setting up an Anzac Centenary Community Grants Committee in Deakin, made up of representatives from our ex-service organisations, councils and other community groups, which will assess applications for funding and make recommendations to me about projects to be submitted to the Department of Veterans' Affairs for consideration."
The Committee must submit applications to the Department of Veterans' Affairs by 30 May 2014. Community members can email suggestions for local events to Michael.Sukkar.MP@aph.gov.au or
phone 9874 1711. For more information on the program, go to www.anzaccentenary.gov.au .
"I look forward to working with the community to deliver commemorations that will honour our nation's centenary of service, and mark the nation-defining events of the Centenary of Anzac, in ways that we can all be proud of," Mr Sukkar said.
-Ends-
Media contact: Kate Bruce-Rosser on 9874 1711 or 0403 499 407.