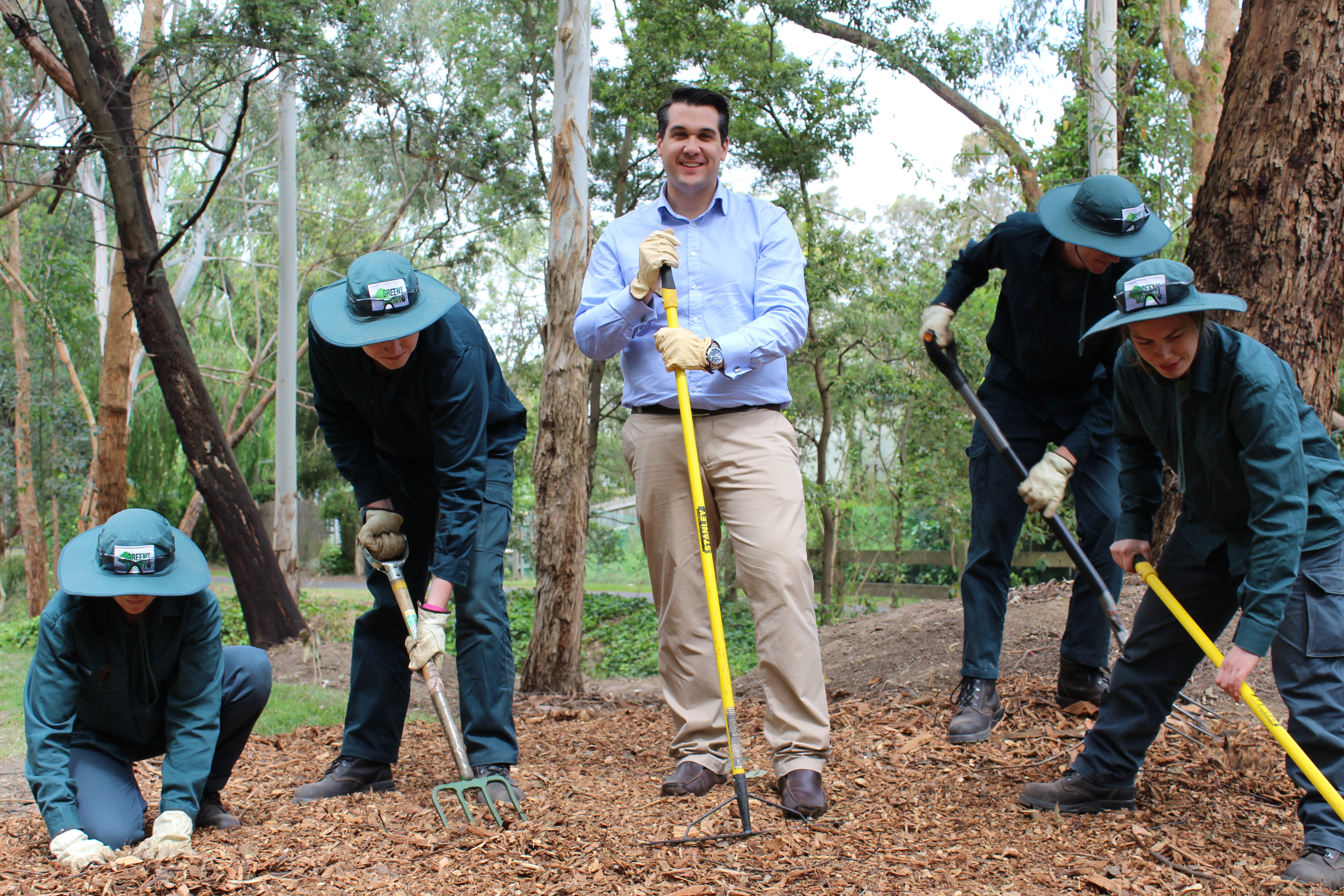 Green Army arrives at Heatherdale Creek
Michael Sukkar, Federal Member for Deakin, today announced the Heatherdale Creek Parklands Environmental Enhancement Green Army project has commenced on-ground works in Mitcham.

"The Heatherdale Creek Green Army project will benefit the waterway and nature reserve through the rehabilitation of the degraded riparian creek corridor using weed control, mulching, revegetation, and other land care management," Michael said.
"During the next six months we will see first-hand the benefits and improvements made to our local environment through activities undertaken by the Green Army," Michael said.
"The young Green Army participants will not only be generating real environment and conservation benefits for our community, but they will be gaining valuable training and on the job experience to help them prepare for the workforce or further training, improving future career opportunities."
Michael thanked the Whitehorse City Council and the Simpson Park / Somers Trail Advisory Committee for their involvement in the Green Army project.
"It is important that government engage with community groups like the Simpson Park / Somers Trail Advisory Committee on these types of projects to deliver outcomes in line with community expectations," Michael said.
Ms Prue Cutts, Chairperson, Heatherdale Creek Parklands Advisory Committee said a small section of the creek has become choked with invasive weeds and is in dire need of rehabilitation.
"We look forward to seeing what will unfold over the next six months. We are so grateful for this wonderful opportunity afforded to us by our local federal representative Michael Sukkar."
"This section of our diverse parkland forms a natural border to one of the few remaining areas in Whitehorse with remnant bushland, and the Green Army will return the creek corridor to its former glory," Ms Cutts said.
Right across Australia, the Green Army is making a real difference to the environment and local communities through projects such as restoring and protecting habitat, weeding, planting, cleaning up creeks and rivers and restoring cultural heritage places.
The Green Army will become Australia's largest ever team supporting environmental action across the country, building up to 15,000 young Australians from 2018.
The Green Army is a major Government commitment with more than $700 million budgeted over four years.
This investment in the Green Army brings the Government's total investment in natural resource management to more than $2 billion over four years.
Further opportunities to join a Green Army project can be found online at www.australia.gov.au/greenarmy.