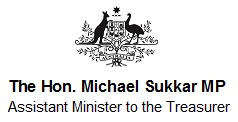 Heathmont's Canterbury Road set for safety upgrade
Work is set to begin on the $1.2 million upgrade of Canterbury Road in Melbourne's east, improving safety for motorists, shoppers and local businesses at the Heathmont shopping precinct.
Federal Member for Deakin Michael Sukkar said the upgrade, fully funded by the Federal Government, would also improve traffic flows and carpark access from Canterbury Road to the precinct.
"This upgrade will ease congestion issues around the shopping precinct, creating a safer environment for shoppers, businesses and motorists," Mr Sukkar said.
"The project will include adjusting the position of the traffic lights on Canterbury Road, improving safety for vehicles turning into the shopping centre carpark, while the left-turn slip lane into the carpark will also be extended to reduce the risk of rear-end collisions.
"Heathmont Village businesses have provided detailed advice on the improvements to be implemented.
"This consultation has resulted in improved positioning of safety bollards around shopfronts and lighting and pathway enhancements.
"Maroondah City Council has awarded the construction contract to Healey Infrastructure Pty Ltd, with construction now able to get underway in the coming weeks."
Early works are due to begin in February 2018, with major construction scheduled to start from early March.
For further information on the project, which will be delivered by Maroondah City Council, visit www.maroondah.vic.gov.au/Development/Developing-Maroondah/Maroondah-projects/Maroondah-projects/Heathmont-Village-shopping-centre-carpark.
Media Contacts
For Mr Sukkar:  03 9874 1711