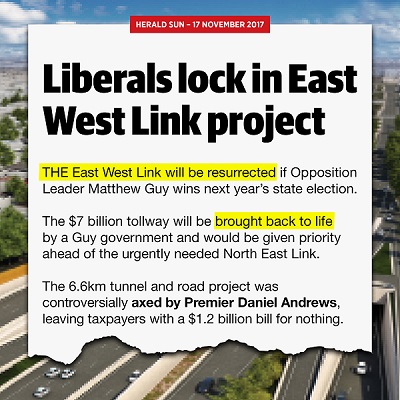 Herald Sun: East West Link to be ressurected if Opposition Leader Matthew Guy wins 2018 state election
The East West Link will be resurrected if Opposition Leader Matthew Guy wins next year's state election.
The $7 billion tollway will be brought back to life by a Guy government and would be given priority ahead of the urgently needed North East Link.
The 6.6km tunnel and road project was controversially axed by Premier Daniel Andrews, leaving taxpayers with a $1.2 billion bill for nothing.
Setting the scene for an explosive new roads battle, Mr Guy has told residents and businesses in his seat of Bulleen "the East West Link must be constructed before any North East Link option".
The Herald Sun has learnt that the Opposition, which supports both tollways, is seriously considering a radical "super road" policy that could effectively combine them into one tender.
Discussions have been held with industry and business leaders about the possibility of building the two multi-billion dollar roads.
Both are viewed as part of Melbourne's long-term transport needs — as one project.
This would enable the party to tell voters in marginal eastern and northeast seats that a coalition government would give them two congestion-busting options, while Labor would give only one.
The Andrews Government is currently holding consultations on four North East Link route options costing between $8 billion and $16 billion, and which would connect the M80 Ring Road to either the Eastern Freeway or EastLink.
Construction wouldn't start until at least 2019, which is after the next election.
Community concerns about the North East Link route options are already starting to erupt. The three routes viewed as most viable are:
AN 11km link from the M80 to the Eastern Freeway via Bulleen Rd;
A 24KM road joining the M80 to EastLink via the Ringwood Bypass, Manningham Rd and Lower Plenty Rd; and
A 26KM route from the M80 to EastLink via Reynolds Rd.
In a letter to residents Mr Guy said: "Given the North East Link will funnel 100,000 extra vehicle movements per day on to the Eastern Freeway, the East West Link must be constructed before any North East Link option."
Senior Liberals confirmed the party was locked into building East West Link.
The first stage of the East West Link was to cost $6.8 billion, for a tunnel linking Parkville to Clifton Hill. Con­struction was due to start in 2015 and finish in 2019. The second stage was to cost another $10 billion and complete the 18km cross-city connection from the Eastern Freeway to the Western Ring Road.
Labor has argued the North East Link, combined with its $5.5 billion West Gate Tunnel for which contracts should be signed this year, would create a cross-city transport option without the East West Link.
http://www.heraldsun.com.au/news/victoria/east-west-link-to-be-ressurected-if-opposition-leader-matthew-guy-wins-2018-state-election/news-story/e5530da6081da46ed22956d3c29666dc