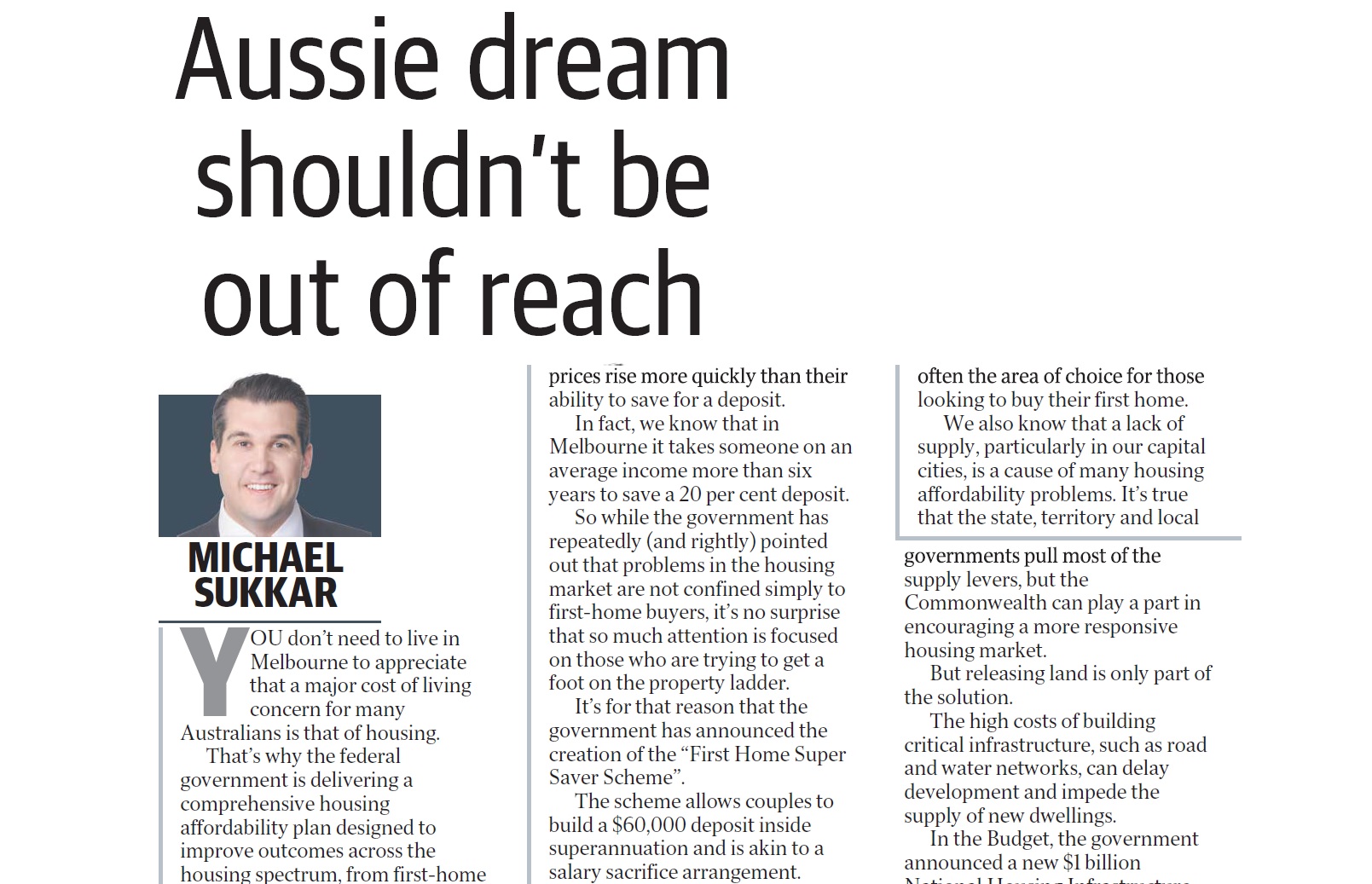 Herald Sun op-ed: Aussie dream shouldn't be out of reach
You don't need to live in Melbourne to appreciate that a major cost of living concern for many Australians is that of housing.
That's why the federal government is delivering a comprehensive housing affordability plan designed to improve outcomes across the housing spectrum, from first-home buyers, to those who rent, to the older Australians who are looking to downsize, to those in community and social housing — and those who are enduring homelessness.
A number of the measures in the housing affordability package, announced in the Budget, have already kicked in.  And last week, I introduced legislation in to parliament for measures directed toward prospective first-homebuyers and downsizers, as well as measures to clamp down o ninappropriate deductions claimed by investors in property.
The government knows that people who are trying to break into the Melbourne property market are faced with the unenviable task of trudging from one auction to another, while watching property ability to save for a deposit.
In fact, we know that in Melbourne it takes someone on an average income more than six years to save a 20 per cent deposit.
So while the government has repeatedly (and rightly) pointed out that problems in the housing market are not confined simply to first-home buyers, it's no surprise that so much attention is focused on those who are trying to get a foot on the property ladder.
It's for that reason that the government has announced the creation of the "First Home Super Saver Scheme".
The scheme allows couples to build a $60,000 deposit inside superannuation and is akin to a salary sacrifice arrangement.
Under the FHSSS, individuals will be able to make voluntary contributions, of up to $15,000 per year, and $30,000 in total, into their nominated superannuation accounts. Generous tax concessions will apply to those contributions, meaning that most people will be able to boost the savings they can put toward a deposit by 30 per cent, compared with saving through a standard deposit account.
While the FHSSS will deliver real benefits to first-home buyers, Labor is choosing to play politics. It is refusing to give first-home buyers a tax cut while at the same time maintaining its disastrous negative gearing housing tax, which we know will hike up rents and push investors into new housing developments that are looking to buy their first home. We also know that a lack of supply, particularly in our capital cities, is a cause of many housing affordability problems. It's true that the state, territory and local supply levers, but the Commonwealth can play a part in encouraging a more responsive housing market.
But releasing land is only part of the solution. The high costs of building critical infrastructure, such as road and water networks, can delay development and impede the supply of new dwellings.
In the Budget, the government announced a new $1 billion National Housing Infrastructure Facility to provide a range of financing options to local governments to bring forward housing supply.
We're also prepared to do our bit in unlocking under-utilised Commonwealth land for future housing development. Here in Melbourne, we have committed to releasing 127ha of surplus Defence land in Maribyrnong, an area just 10km out of the CBD, where building of up to 6000 new homes has been proposed.
We're also helping older Australians who wish to downsize by reducing the barriers they face when selling the family home.
It has been reported that there are 100,000 under-utilised properties across Sydney and Melbourne, and 2000 six-bedroom homes occupied by only one person. That is much-needed housing stock that could be used far better by bigger families.
So, from next July 1, people aged 65 and over will be able to make a non-concessional superannuation contribution of up to $300,000 (or $600,000 for a couple) after selling their main residence.
That will encourage people who may have been put off by downsizing purely because of the existing restrictions and caps, and will free up bigger homes for growing families.
By accelerating the savings rate of first-home buyers through the FHSSS, reducing barriers to downsizing, and unlocking the right supply in the right places, we will give a significant step up to people trying to enter the market, as well as to people preparing for the next stage of their life.
Combine this with the broader housing affordability package announced in the Budget, and we're aiming to put home ownership within reach of people who previously could only dream about it.