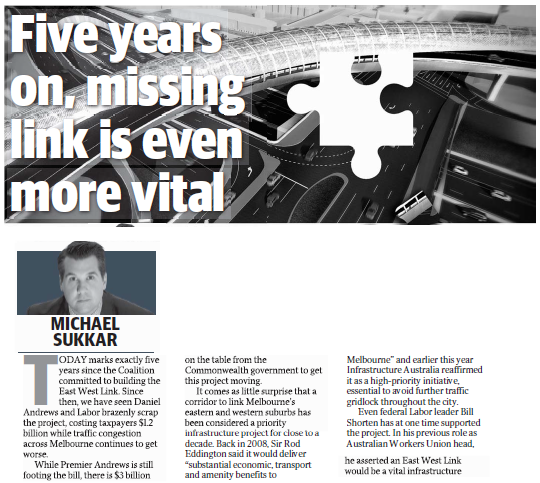 Herald Sun op-ed: Five years on, missing link is even more vital
Today marks exactly five years since the Coalition committed to building the East West Link. Since then, we have seen Daniel Andrews and Labor brazenly scrap the project, costing taxpayers $1.2 billion while traffic congestion across Melbourne continues to get worse.
While Premier Andrews is still footing the bill, there is $3 billion on the table from the Commonwealth government to get this project moving.
It comes as little surprise that a corridor to link Melbourne's eastern and western suburbs has been considered a priority infrastructure project for close to a decade. Back in 2008, Sir Rod Eddington said it would deliver "substantial economic, transport and amenity benefits to Melbourne" and earlier this year Infrastructure Australia reaffirmed it as a high-priority initiative, essential to avoid further traffic gridlock throughout the city.
Even federal Labor leader Bill Shorten has at one time supported the project. In his previous role as Australian Workers Union head, he asserted an East West Link would be a vital infrastructure investment for the state, only to backflip when Labor took office.
And Andrews' hand-picked advisers at Infrastructure Victoria have also pointed to the need for preparations for the East West Link to commence as soon as possible to avoid long-term drawbacks to Melbourne's road network. In fact it has been suggested that if the road is not built, the cost of delays along the east-west corridor will increase from $73 million in 2011 to $144 million in 2031.
At the same time, we are seeing unprecedented population growth throughout Victoria, particularly in Melbourne. Census data released this week showed Melbourne's population has grown by 12 per cent in the past five years and we are tipped to overtake Sydney as Australia's biggest city by 2036. According to the Australian Bureau of Statistics, Melbourne's population could, in fact, double by the middle of the century.
Naturally, that will lead to even more congestion in areas that are struggling already to cope with an increasing number of traffic choke-points. Each day tens of thousands of vehicles come to a halt at the end of the Eastern Freeway. In an RACV survey of 18,000 drivers last year, the eastern end of the proposed East West Link was overwhelmingly voted as the worst traffic bottleneck in the state.
That is why the East West Link is needed now more than ever. It will change the face of transport here, providing an alternative to both the Monash and West Gate freeways, reducing pressure on inner-northern and western suburbs roads and, in turn, making it easier for Geelong commuters.
There is no doubt that thousands of commuters will be reminded of this each day when they are stuck in bumper-to-bumper traffic, costing time and money.
Daniel Andrews' silver bullet solution — the North East Link — has also been identified as a priority but there are significant shortfalls.
Construction is still years away and, by Andrews' own admission, a business case and pre-construction works will cost taxpayers another $100 million, with little work having been done to date. But the East West Link is ready to go and will create more than 6000 much-needed jobs.
The North East Link, without the East West Link to complement it, will result in thousands more vehicles pouring on to the Eastern Freeway each day.
Premier Andrews' other pet project — the Western Distributor — also falls short. While part of the cost of the project will be met by the state government, the rest is expected to be met through tolls on the Western Distributor and widened West Gate Freeway and an extension of the tolling period for CityLink. That means all motorists, including those living in the eastern suburbs, will have to fund a road that provides little benefit to them. The Western Distributor business case has also raised concerns about its capacity to deal with long-term traffic demands, and suggests a corridor to the north will eventually be needed to deal with that.
The East West Link is the only way to tackle the crippling traffic congestion across the Eastern Freeway — there is simply no substitute.
The Commonwealth government is continuing to demonstrate its commitment to investing in infrastructure in Victoria. Just this week we announced $1.42 billion of funding towards regional rail infrastructure throughout the state, with the state government providing $150 million.
The Victorian Government has shown it is willing to work with us when it suits it. For the good of the state, Daniel Andrews and Labor need to work with the Commonwealth to deliver the infrastructure that is essential to so many Melburnians.
It's extraordinary to believe that five years on we are still talking about the East West Link and not already building it.
It's time for the Andrews Government to listen to the experts, swallow its words and build this missing link.
Michael Sukkar is the Assistant Minister to the Treasurer and the federal Member for Deakin