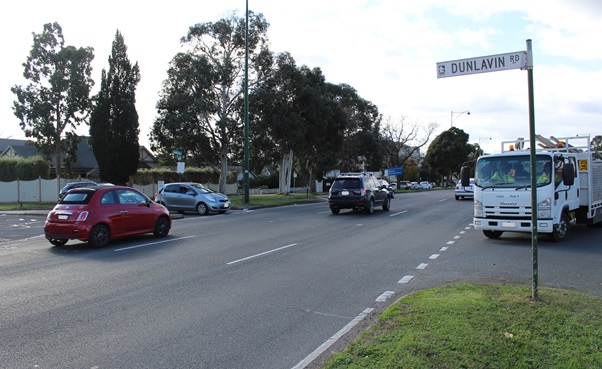 Maroondah Highway intersection upgrade receives green light
Funding approved to upgrade the Maroondah Highway/Dunlavin Road intersection just outside of Melbourne, as part of the $3 billion Victorian Infrastructure Package
Motorists travelling through Nunawading just outside Melbourne will soon have a safer journey following funding approval to upgrade the Maroondah Highway and Dunlavin Road Intersection.
Michael Sukkar, Federal Member for Deakin, said the funding approval fulfilled one of his key 2016 election commitments.
"This is a fairly notorious intersection and I've made it a personal priority to get it fixed to improve safety for all drivers," Mr Sukkar said.
"This project will improve safety and access by giving motorists adequate road width to turn right from the highway in to Dunlavin Road. Currently the width of the right turn lane is just two metres, far below the absolute minimum width of 2.8 metres.  This funding will pay to expand the width of the lane to a full three metres.
"With the addition of road signage, resurfacing and better line markings, this will reduce the chance of a collision occurring, including between trucks and small vehicles.
"It's great to see funding approved for this important project and the Australian Government investing in this region's future."
Federal Minister for Infrastructure and Transport Darren Chester said the $100,000 project was part of the $3 billion Victorian Infrastructure Package.
"The Australian Government's record $50 billion infrastructure investment is delivering a range of transport upgrades that are saving lives, creating jobs, and building the infrastructure we need to support a growing nation," Mr Chester said.
"The projects we are funding range in size, and this upgrade to the Maroondah Highway and Dunlavin Road intersection proves it's not just big-ticket jobs that can change lives and save lives. We can make huge improvements to roads and road safety through strategic investments such as this one."
The project is expected to be completed by late 2017, with the full $100,000 cost being funded by the Australian Government.
Media Contacts
For Mr Chester:                Kate Barwick                      0407 072 809
For Mr Sukkar:                 Joshua Bonney                 03 9874 1711