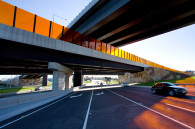 Michael Sukkar welcomes $1.5 billion East West Link commitment
Liberal candidate for Deakin Michael Sukkar has welcomed Federal Opposition Leader Tony Abbott's affirmation of his $1.5 billion commitment to the East West Link Project, a new cross‐city road connection for Melbourne.
Mr Abbott joined Victorian Roads Minister Terry Mulder in Abbotsford last Thursday to inspect the current traffic situation on the Eastern Freeway at Hoddle Street. Mr Sukkar said the proposal would help ease chronic congestion on the Eastern Freeway, which Deakin commuters relied upon to traverse Melbourne.
"This funding announcement recognises that ever increasing commuter times on the Eastern Freeway are causing Deakin residents to be away from their families for longer. It also means that local Deakin businesses and consumers are paying more in transportation costs,'' Mr Sukkar said.
"The East West Link is a large project which will significantly improve commuter times faced by Deakin residents and it will only become a reality with a Coalition Government.''
For more information on the East West Link geotechnical drilling and a map of the drilling sites, visit www.linkingmelbourne.vic.gov.au.