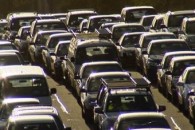 Mike Symon Silent on East-West Link Project
Labor MP Mike Symon must tell the people of Deakin where he stands on the East-West Link project after yesterday missing a critical debate in Parliament, said Michael Sukkar, Candidate for Deakin.
The Parliament spent an hour debating a motion that called on the Gillard Government to match the Coalition's $1.5 billion commitment towards construction of the East-West Link but Mr Symon was, once again, missing in action.
Mr Sukkar said people in Deakin deserved to be represented by someone who took an active interest in local issues.
"Deakin commuters are spending more than an hour each day stuck on the Eastern Freeway but Mike Symon couldn't even take five minutes out of his schedule to speak on this nation-building road project," he said.
"Although other Labor MPs spoke on the motion, Mr Symon was noticeably absent from this debate despite the fact that this project will make huge a difference to people living here."
"Yesterday's silence is unfortunately what Deakin has come to expect from Mr Symon when local interests are at stake."
The Gillard Government has refused to commit funding to the 18-kilometre East-West Link project, which will connect the Eastern Freeway with the Western Ring Road and the Eastern and Tullamarine Freeways, with a connection to the Port.
"The East-West Link would give Deakin families more time at home and boost productivity, but Mr Symon's silence yesterday reaffirmed that the only way this vital piece of road infrastructure will be built is under a Federal Coalition Government," Mr Sukkar said.
For more information on the East West Link visit www.linkingmelbourne.vic.gov.au