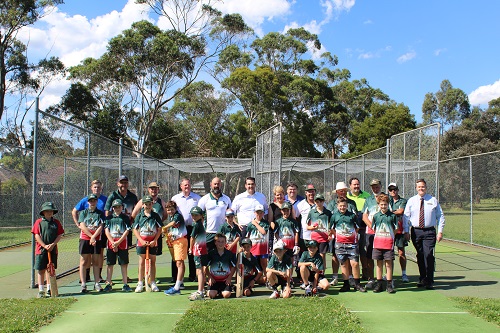 New Cricket Nets for Croydon Ranges Cricket Club
$140,000 will be spent to replace the current cricket nets.
The upgrade will ensure better safety for cricketers and passers-by, resolving the problem of stray cricket balls through holes in the current nets.
The club has been fundraising for new nets for some time and welcomed partnering with the Federal Government and Maroondah Council.
The upgrade will mean a new 4 wicket cricket net structure.
Michael Sukkar, Federal Member for Deakin, today announced that the Federal Government would support Croydon Ranges Cricket Club, as they undergo a major upgrade to their cricket nets.
The current cricket nets at Silcock Reserve are in urgent need of replacement. They are more than 20 years old, and the Club has done all that it can to repair an endless amount of holes in the chain wire fencing, but balls still manage to escape the structure creating a risk to users and the wider community, many of whom walk their dogs around the reserve.
The club has been fundraising for new nets and is keen to partner with Maroondah City Council on the establishment of a 4 wicket cricket net structure.
Mr Sukkar said that these investments were a terrific opportunity to support community activity and health living.
"It is terrific to see upgrades to our sporting facilities like this, allowing our sporting clubs access to the best facilities.
This upgrade provides greater safety to children and parents alike, meaning our cricketing kids can just focus on playing cricket."
Mat Peisley, President of Croydon Ranges Cricket Club, was thankful for the Governments funding so now the upgrade can go ahead.
"This upgrade has been on the cards for a while, and it is terrific to see Michael secure this funding so that it may now go ahead."
Media Contact: Office of Michael Sukkar MP 03 9874 1711