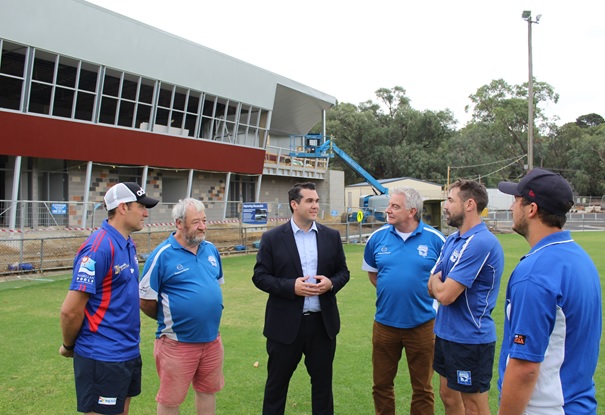 Works progressing at East Ringwood Pavilion
Michael Sukkar, Federal Member for Deakin, has visited East Ringwood Reserve to tour the construction site of the new East Ringwood Multipurpose Pavilion.
Mr Sukkar said he was excited to see how far the works had progressed on the site.
"It's fantastic to see this project getting nearer to completion, delivering on my election commitment to help redevelop this important facility for our community," he said.
"I'm really proud of the progress and I know that the local sporting clubs and community groups are looking forward to making good use of the redeveloped pavilion."
The Turnbull Government invested $500,000 in the redevelopment project through the Community Development Grants Programme. Construction commenced in May last year. Tim Hanna, President of East Ringwood Football Club, said the "players can't wait to use the new facilities. It's great to have them for the upcoming season."
Wesley Bawia, Vice-President of Chin Community Victoria, said group members were eagerly awaiting the completion of the pavilion in the coming months.
"Our community is very grateful for Michael's ongoing support and we cannot wait to use the new facilities for our meetings and events," Mr Bawia said.
In addition to funding for East Ringwood Multipurpose Pavilion, the Turnbull Government is providing $20,000 towards the fit-out of the facility's new community hub and $20,000 for a new scoreboard.
Media Contact: Joshua Bonney 03 9874 1711