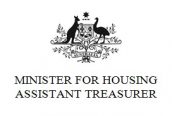 APPOINTMENT OF AUSTRALIAN TAXATION OFFICE SECOND COMMISSIONER
THE HON MICHAEL SUKKAR MP
Minister for Housing and Assistant Treasurer
MEDIA RELEASE
16 April 2020
APPOINTMENT OF AUSTRALIAN TAXATION OFFICE SECOND COMMISSIONER
The Morrison Government is pleased to announce the appointment of Mr Jeremy Hirschhorn as a Second Commissioner of the Australian Taxation Office for a seven-year period from 16 April 2020.
Mr Hirschhorn has been acting in the role of Second Commissioner of Taxation since December 2018.
He has previously held the position of Deputy Commissioner for Public Groups at the ATO from 2015 to 2018, and was the ATO's Chief Tax Counsel from 2014 to 2015.
Recently, Mr Hirschhorn has been working closely with the Government in the implementation of the COVID-19 measures the ATO is responsible for administering.
Prior to joining the ATO, Mr Hirschhorn spent almost 20 years at KPMG, including as a Partner in the Taxation Division from 2003 to 2014.
The Morrison Government congratulates Mr Hirschhorn on his appointment.