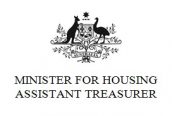 PILOT PROGRAM TO DELIVER ADDITIONAL COMMUNITY HOUSING THROUGHOUT NEW SOUTH WALES
THE HON MICHAEL SUKKAR MP
Minister for Housing and Assistant Treasurer
THE HON MELINDA PAVEY MP
NSW Minister for Water, Property and Housing
MEDIA RELEASE
20 August 2020
PILOT PROGRAM TO DELIVER ADDITIONAL COMMUNITY HOUSING THROUGHOUT NEW SOUTH WALES
The Commonwealth and New South Wales Governments will work together on a new pilot program to fast-track community housing supply by providing innovative, low cost finance to Community Housing Providers (CHPs)
The NSW Land and Housing Corporation's (LAHC) Community Housing Renewal Program will take advantage of an innovative financing structure designed to use the relative strengths of the parties to the transaction to deliver renewable and scalable financing for the social and affordable housing sector.
Minister for Housing Michael Sukkar said that pilot program was the first of its kind in Australia and demonstrated how the National Housing Finance and Investment Corporation (NHFIC) is working to improving housing outcomes for Australians.
"The Coalition Government established NHFIC to deliver innovative programs to improve outcomes across the housing spectrum and this pilot program is a further example of our commitment to helping Australians into a home of their own," Minister Sukkar said.
"The pilot program gives CHPs the opportunity to build new social and affordable homes on State Government owned land, through access low cost and long term funding to manage the housing under build to rent long term leases."
"This pilot program complements, and is in addition to, the $1.2 billion in bonds NHFIC has issued through its Affordable Bond Aggregator, which has supported the delivery of more than 2,000 new and 6,300 existing homes built and managed by Australia's CHPs."
NSW Minister for Water, Property and Housing Melinda Pavey said this innovative build to rent and financing model delivers on the NSW Government's objectives to build new and better social housing by renewing ageing assets that are expensive to maintain, and creating mixed communities.
"We're not only building more new housing for those people who really need it – we're also providing jobs and supporting the NSW economy at a critical time," Minister Pavey said.
"We need more of this type of innovative thinking and collaboration that provides the best possible bang for our buck we can get. This model has the potential to inject hundreds of millions into the housing sector and ultimately the economy, which was essential during this difficult time."
"Six sites in Sydney have been identified for the pilot program, with development approvals in place that will deliver around 96 new homes. Preparation for a second tranche of sites for release is already underway following the pilot, which will include around 300 homes in metropolitan and regional areas of NSW," Minister Pavey said.
Tier 1 and Tier 2 CHPs in New South Wales will be eligible to participate in their own right or by forming consortia with other CHPs or non-CHP partners.
CHPs will, at its option, have access to both NHFIC and institutional subordinated debt provided by Cbus.
CHPs can access the Program through an expression on interest period which opens today with the aim of delivering new and better social housing under an innovative build to rent model on a neighbourhood scale.
For more information on NSW Land and Housing Corporation's Community Housing Renewal Program visit: https://www.tenders.nsw.gov.au.