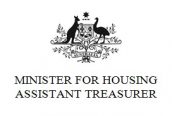 ABS LENDING INDICATORS AGAIN SHOW HOMEBUILDER IS DRIVING OUR COMEBACK
THE HON MICHAEL SUKKAR MP
Minister for Housing and Assistant Treasurer
MEDIA RELEASE
3 December 2020
ABS LENDING INDICATORS AGAIN SHOW HOMEBUILDER IS DRIVING OUR COMEBACK
Today's Australian Bureau of Statistics lending indicators for October 2020 shows loan commitments for the construction of new dwellings rose by 11.5 per cent.
The October result resets the monthly record achieved in September for the highest amount of loan commitments recorded since the ABS commenced collection of this data in 2002.
First home buyers continue to lead our comeback with the number of owner occupier first home buyer loan commitments increased by 3.4 per cent in October to reach 13,481.
This is a stunning result for Australians looking to get into their first home and is more than 30 per cent higher than in any pre-COVID month since 2009.
Commentary from the ABS also highlighted that today's record setting results coincide with the implementation of the Morrison Government's HomeBuilder programme.
Today's outcome is yet another endorsement of the effectiveness of HomeBuilder in protecting the jobs of the one million Australians in our construction sector and driving our comeback from the COVID-19 recession, and follows;
Housing Industry Association new home sales data for October 2020 that shows new home sales were 31.6 per cent higher in the three months to October when compared with the same time last year.
ABS building approvals data for October 2020 showed approvals for private sector houses rose for the fourth consecutive month, and are at the highest recorded level since February 2000, with 10,692 approvals.
Australia has recorded a ten-year high for first homes buyers in the last quarter, according to the latest Real Estate Institute of Australia "The Housing Affordability Report".
To maintain this momentum in Australia's economic comeback, the Morrison Government has announced HomeBuilder will be extended until 31 March 2021.
For all new build contracts signed between 1 January 2021 and 31 March 2021:
Eligible owner-occupier purchasers will receive a $15,000 grant; and
The property price caps for new builds in New South Wales and Victoria will be increased to $950,000 and $850,000 respectively.
In addition, the construction commencement deadline will be extended from three months to six months for all eligible contracts signed on or after 4 June 2020.
The construction industry has said the extension of HomeBuilder will mean a steady pipeline of construction activity through to 2022, which will keep tradies on the tools.
More information on the HomeBuilder programme can be found at: https://treasury.gov.au/coronavirus/homebuilder.