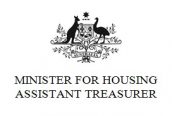 APPOINTMENT OF THE AUSTRALIAN ACCOUNTING STANDARDS BOARD CHAIR
The Hon Michael Sukkar MP
Minister for Housing and Assistant Treasurer
MEDIA RELEASE
21 April 2020
APPOINTMENT OF THE AUSTRALIAN ACCOUNTING STANDARDS BOARD CHAIR
The Morrison Government has appointed Dr Keith Kendall as the full-time Chair of the Australian Accounting Standards Board (AASB) for a five-year period from 3 May 2020.
The AASB is a Commonwealth statutory authority responsible for developing accounting standards through adapting international financial reporting standards for use in Australia.
In his capacity as the Chair of the AASB, Dr Kendall has also been appointed as a part-time member of the Financial Reporting Council (FRC) for a five-year period commencing from the date of his appointment to the AASB. The FRC is responsible for overseeing the effectiveness of the financial reporting framework in Australia.
The Government congratulates Dr Kendall on his appointment and thanks the outgoing AASB Chair, Ms Kris Peach, for her significant contributions to the work of the AASB and the FRC.