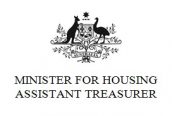 APPOINTMENT TO THE BOARD OF TAXATION
The Hon Michael Sukkar MP
Minister for Housing and Assistant Treasurer
MEDIA RELEASE
1 June 2020
APPOINTMENT TO THE BOARD OF TAXATION
The Morrison Government has reappointed Dr Julianne Jaques as a part-time member of the Board of Taxation (the Board) for a further three-year period from 1 July 2020.
The Board is a non-statutory advisory body charged with improving the design of taxation laws and their operation by bringing together business and broader community perspectives.
Dr Jaques is a commercial barrister, Chartered Accountant and Chartered Tax Adviser with over 25 years' experience as a taxation professional.
She recently showed strong leadership, acting as the Chair of the Board after the sudden and sad passing of Michael Andrew AO, and was awarded the Chartered Tax Adviser of the Year in March 2020.
Dr Jaques holds bachelor degrees in Economics and Law from Monash University and a Doctorate in Juridical Science from the University of Melbourne.