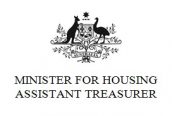 APPOINTMENTS TO THE BOARD OF TAXATION
The Hon Michael Sukkar MP
Minister for Housing and Assistant Treasurer
MEDIA RELEASE
1 April 2020
APPOINTMENTS TO THE BOARD OF TAXATION
The Morrison Government has appointed Ms Rosheen Garnon as part-time Chair, and Mr Christopher Vanderkley as a part-time Member of the Board of Taxation for a three-year period from 25 March 2020.
The Board of Taxation is a non-statutory advisory body charged with improving the design of taxation laws and their operation by bringing together business and broader community perspectives.
Ms Garnon is an existing member of the Board. She brings a deep understanding of the business community and tax law from her roles on several boards and over 30 years' experience in taxation, including as National Managing Partner for KPMG Australia's Taxation Division and a member of the National Executive Committee of KPMG from 2009-2015.
Mr Chris Vanderkley has strong business taxation experience, with over 30 years' corporate tax experience in the financial services sector. He held senior positions at GE Capital Asia Pacific, including as Chief Financial Officer, and is currently Special Counsel at PwC leading their tax transparency and tax governance practice.
The Government thanks Dr Julianne Jaques for her strong leadership of the Board's work, as Acting Chair, after the sudden and sad passing of the late Michael Andrew AO.