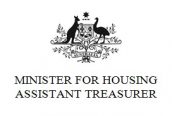 BROAD RANGE OF LENDERS SELECTED TO FIRST HOME LOAN DEPOSIT SCHEME PANEL
The Hon Michael Sukkar MP
Minister for Housing and Assistant Treasurer
MEDIA RELEASE
BROAD RANGE OF LENDERS SELECTED TO FIRST HOME LOAN DEPOSIT SCHEME PANEL
The Morrison Coalition Government is committed to helping make home ownership a reality for more Australians and to get them into the property market sooner.
Today, the Government welcomes confirmation from the National Housing Finance and Investment Corporation (NHFIC) that 27 lenders have been selected, from a wide pool of applicants, to form the initial panel offering guarantee-backed loans under the First Home Loan Deposit Scheme.
The National Australia Bank (NAB) and Commonwealth Bank of Australia (CBA), together with 25 non‑major lenders have been appointed as participating lenders in the Scheme.
Importantly, all lenders have committed not to charge eligible customers higher interest rates than equivalent customers outside of the Scheme.
The Scheme has been warmly welcomed by major industry peak bodies, and the composition of the initial lending panel reflects the industry's confidence in the Morrison Coalition Government's plan to assist first home buyers.
Further, the Scheme has been deliberately designed to ensure strong representation of smaller lenders on the panel. This will promote competition between the large and small banks, and ensure the Scheme has broad geographic reach, including in regional and remote communities.
The composition of the panel should also enable strong activation of mortgage broker channels and promote choice for first home buyers.
NAB and CBA will offer guaranteed loans from the Scheme's commencement date of 1 January 2020.
Consistent with NHFIC's Investment Mandate, the non-major lenders will receive no less than 50 per cent of the 10,000 guarantees allocated per financial year.
Applicants will be subject to eligibility criteria, including having taxable incomes up to $125,000 per annum for singles and up to $200,000 per annum for couples and eligible dwelling price thresholds.
Further information about the Scheme is available on NHFIC's website including online tools to find relevant dwelling price thresholds.
The full list of initial participating lenders is:
Major bank lenders
National Australia Bank

Commonwealth Bank of Australia

Non-major lenders
Australian Military Bank
Auswide Bank
Bank Australia
Bank First
Bank of us
Bendigo Bank
Beyond Bank Australia
Community First Credit Union
CUA
Defence Bank
Gateway Bank
G&C Mutual Bank
Indigenous Business Australia
Mortgageport
MyState Bank
People's Choice Credit Union
Police Bank (including the Border Bank and Bank of Heritage Isle)
P&N Bank
QBANK
Queensland Country Credit Union
Regional Australia Bank
Sydney Mutual Bank and Endeavour Mutual Bank (divisions of Australian Mutual Bank Ltd)
Teachers Mutual Bank Limited (including Firefighters Mutual Bank, Health Professionals Bank, Teachers Mutual Bank and UniBank)
The Mutual Bank
WAW Credit Union