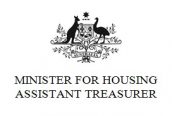 CHALMERS' ECONOMIC MAGIC PUDDING WOULD DRIVE BUDGET BACK INTO DEFICIT
The Hon Michael Sukkar MP
Minister for Housing and Assistant Treasurer
MEDIA RELEASE
17 December 2019
CHALMERS' ECONOMIC MAGIC PUDDING WOULD DRIVE BUDGET BACK INTO DEFICIT
Yesterday's Mid-Year Economic and Fiscal Outlook confirmed the progress the Morrison Coalition Government has made in rebuilding our economy and repairing the budget black hole left by Labor.
It is also made clear that Labor has simply not learnt from the message Australians sent them at the election.
In a train-wreck interview on yesterday's ABC24 Afternoon Briefing, Labor's Shadow Treasurer Jim Chalmers, was unable to answer, on no less than eight occasions, whether Labor's recent spending thought bubbles would drive the budget into deficit.
Jim Chalmers was asked seven times whether Labor's Newstart policy was affordable – not only did he refuse to answer, he also admitted he has not even bothered to cost his policy.
The Shadow Treasurer even went so far as to suggest income tax cuts should be accelerated, this despite the fact Labor's election tax policy, which he drafted, was designed to rip $387 billion from Australian households.
Shredding what was left of his economic credibility, he even claimed you can cut taxes and massively increase spending, without jeopardising the surplus.
Australians are not going to be fooled by this magic pudding approach to fiscal policy. It is little wonder why Labor has not delivered a surplus since 1989.
Australians saw through Kevin Rudd and Wayne Swan, they saw through Bill Shorten and Chris Bowen, and they can see through the glib spending thought bubbles of Jim Chalmers – the key architect of Labor's decade of economic failure.