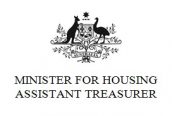 FIRST LENDER APPOINTED FOR FIRST HOME LOAN DEPOSIT SCHEME
The Morrison Coalition Government has welcomed the announcement of NAB's appointment to the panel of participating lenders for the First Home Loan Deposit Scheme.
The National Housing Finance and Investment Corporation (NHFIC) made the appointment following a competitive procurement process and anticipates announcing the other successful panel participants shortly, including a broad range of smaller lenders.
NHFIC selects lending panel participants on the basis of a range of criteria including the competitiveness of their home loan offering, geographic reach and readiness to meet Scheme implementation timelines.
NAB will not charge eligible customers higher interest rates than equivalent customers outside of the Scheme. NAB has also committed to being ready to offer guarantees from the Scheme's commencement date of 1 January 2020.
Minister for Housing and Assistant Treasurer, the Hon Michael Sukkar MP, said the Scheme will help more first home buyers purchase a home sooner.
"We want to help make home ownership a reality for more Australians," Minister Sukkar said.
"The First Home Loan Deposit Scheme has been specifically designed to support first home buyers purchase a modest home, getting them into the property market sooner."
"The Scheme has been warmly welcomed by major industry peak bodies, as well as a broad spectrum of lenders, and it is great to have NAB on board."
NAB Chief Customer Officer, Consumer Banking, Mike Baird said, "We are proud to be chosen to partner with the Federal Government and NHFIC on the First Home Loan Deposit Scheme.
"Every year our bankers help more than 15,000 Australians achieve their dream of owning their first home. This Scheme is a fantastic way of helping even more customers, allowing them to potentially save thousands of dollars on their mortgage."
The Scheme provides a guarantee that will allow eligible first home buyers on low and middle incomes to purchase a home with a deposit of as little as 5 per cent. The Scheme will support up to 10,000 loans each financial year, starting from 1 January 2020.
Applicants will be subject to eligibility criteria, including having taxable incomes up to $125,000 per annum for singles and up to $200,000 per annum for couples and eligible property price thresholds as set out in NHFIC's Investment Mandate.
To promote competition, the Coalition Government has directed that the total number of guarantees issued to major banks in a financial year must not exceed 5,000.
Other Coalition Government measures to support housing include:
The First Home Super Saver Scheme which helps Australians build a deposit for a first home inside their superannuation fund by making voluntary contributions.
Investing $1 billion in local infrastructure to unlock new housing supply, in partnership with local councils through the National Housing Infrastructure Facility.
Supporting community housing providers to increase and accelerate the supply of social and affordable housing through the Affordable Housing Bond Aggregator.
Releasing suitable Commonwealth land, including defence land, for housing development.
These incentives have helped thousands of first home buyers enter the market. In the past year, around 110,000 Australians bought their first home – the highest level since 2009.