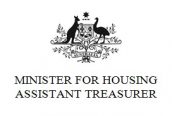 MAJOR MILESTONE FOR REDFERN HOUSING PROJECT
THE HON MICHAEL SUKKAR MP
Minister for Housing and Assistant Treasurer
THE HON DOMINIC PERROTTET MP
Treasurer of New South Wales
THE HON GARETH WARD MP
NSW Minister for Families, Communities and Disability Services
MEDIA RELEASE
14 December 2020
MAJOR MILESTONE FOR REDFERN HOUSING PROJECT
One of the largest social and affordable housing developments in New South Wales is nearing completion, with construction of a 160-unit complex in Redfern reaching its highest point today.
Federal Minister for Housing and Assistant Treasurer Michael Sukkar said the project is a great example of all levels of government working together, with community housing providers and the National Housing and Finance Investment Corporation (NHFIC), to deliver more affordable housing.
"The Morrison Government established NHFIC to deliver innovative solutions to improve housing outcomes for Australians," Minister Sukkar said.
"The work of St George Community Housing and Lendlease is a prime example of the sort of quality projects can be delivered when we all work together. It is going to change the lives of so many residents."
Treasurer Dominic Perrottet said the 18-storey project on Gibbons Street, close to transport, shops and services, will provide secure housing for people in the community who need it most.
"This is about improving the lives of vulnerable people and recognising their differing individual needs, by offering a diverse range of housing options," Mr Perrottet said.
The project is being delivered by St George Community Housing (SGCH) as part of the NSW Government's $1.1 billion Social and Affordable Housing Fund (SAHF), and has received financing through the Federal Government's National Housing Finance and Investment Corporation (NHFIC).
Minister for Families, Communities and Disability Services Gareth Ward said the development includes a mix of one, two and three bedroom units, and includes ground floor retail and commercial space.
"This project is part of a strong pipeline of new housing being delivered to help vulnerable people break the cycle of homelessness, by finding them a safe place to call home and connecting them to the support services they need," Mr Ward said.
The project includes a new SGCH office, communal open space and a community hub to connect tenants to opportunities and support services, and will have an 8.3-star rating under the Nationwide House Energy Rating Scheme.
SGCH CEO Scott Langford said tenants moving into the new homes would also receive a suite of support services to help improve their health and general wellbeing.
"Whilst we are celebrating the topping out of the building, nothing will top the impact of putting keys into the hands of tenants who will have an affordable home in this great location," Mr Langford said.
City of Sydney Deputy Mayor Jess Scully said the City sold the former Marian Street Depot site at a discounted price to help unlock the development opportunity.
"This project will help meet demand for affordable housing in the City of Sydney, providing secure housing for people on low incomes and pensions."
Lendlease CEO Building Dale Connor said the project is Lendlease's first foray into social and affordable housing in Australia.
"This important project is an opportunity to address the need for social and affordable housing in Australia, and to work with our partners to shape what inclusive and secure affordable housing can look like for our communities," Mr Connor said.
The Redfern development forms part of SGCH's 560-property portfolio being delivered through the SAHF program, which will deliver over 3,400 additional dwellings. Construction at Redfern is expected to finish by the middle of 2021.