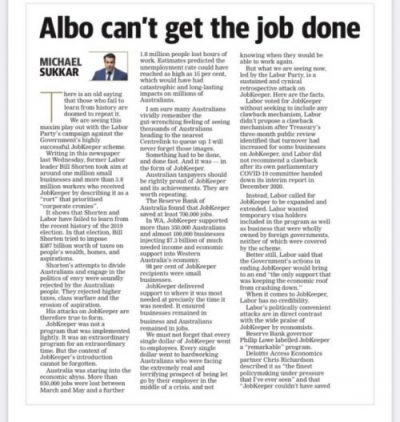 Opinion piece: 'Albo can't get the job done'
There is an old saying that those who fail to learn from history are doomed to repeat it.
We are seeing this maxim play out with the Labor Party's campaign against the Government's highly successful JobKeeper scheme.
Writing in this newspaper last Wednesday, former Labor leader Bill Shorten took aim at around one million small businesses and more than 3.8 million workers who received JobKeeper by describing it as a "rort" that prioritised "corporate cronies".
It shows that Shorten and Labor have failed to learn from the recent history of the 2019 election. In that election, Bill Shorten tried to impose $387 billion worth of taxes on people's wealth, homes, and aspirations.
Shorten's attempts to divide Australians and engage in the politics of envy were soundly rejected by the Australian people. They rejected higher taxes, class warfare and the erosion of aspiration.
His attacks on JobKeeper are therefore true to form.
JobKeeper was not a program that was implemented lightly. It was an extraordinary program for an extraordinary time. But the context of JobKeeper's introduction cannot be forgotten.
Australia was staring into the economic abyss. More than 850,000 jobs were lost between March and May and a further 1.8 million people lost hours of work. Estimates predicted the unemployment rate could have reached as high as 15 per cent, which would have had catastrophic and long-lasting impacts on millions of Australians.
I am sure many Australians vividly remember the gut-wrenching feeling of seeing thousands of Australians heading to the nearest Centrelink to queue up. I will never forget those images.
Something had to be done, and done fast. And it was – in the form of JobKeeper.
Australian taxpayers should be rightly proud of JobKeeper and its achievements. They are worth repeating.
The Reserve Bank of Australia found that JobKeeper saved at least 700,000 jobs.
In WA, JobKeeper supported more than 350,000 Australians and almost 100,000 businesses injecting $7.3 billion of much needed income and economic support into Western Australia's economy.
98 per cent of JobKeeper recipients were small businesses.
JobKeeper delivered support to where it was most needed at precisely the time it was needed. It ensured businesses remained in business and Australians remained in jobs.
We must not forget that every single dollar of JobKeeper went to employees. Every single dollar went to hardworking Australians who were facing the extremely real and terrifying prospect of being let go by their employer in the middle of a crisis, and not knowing when they would be able to work again.
But what we are seeing now, led by the Labor Party, is a sustained and cynical retrospective attack on JobKeeper. Here are the facts.
Labor voted for JobKeeper without seeking to include any clawback mechanism, Labor didn't propose a clawback mechanism after Treasury's three-month public review identified that turnover had increased for some businesses on JobKeeper, and Labor did not recommend a clawback after its own parliamentary COVID-19 committee handed down its interim report in December 2020.
Instead, Labor called for JobKeeper to be expanded and extended. Labor wanted temporary visa holders included in the program as well as business that were wholly owned by foreign governments, neither of which were covered by the scheme.
Better still, Labor said that the Government's actions in ending JobKeeper would bring to an end "the only support that was keeping the economic roof from crashing down."
When it comes to JobKeeper, Labor has no credibility.
Labor's politically convenient attacks are in direct contrast with the wide praise of JobKeeper by economists.
Reserve Bank governor Philip Lowe labelled JobKeeper a "remarkable" program.
Deloitte Access Economics partner Chris Richardson described it as "the finest policymaking under pressure that I've ever seen" and that "JobKeeper couldn't have saved any more jobs than it did".
Another economist even described JobKeeper as the "most important thing the Government has done" and that without JobKeeper "we'd be looking at unemployment more like 20 per cent than 10 per cent."
Which economist was that? None other than Labor's shadow assistant minister for treasury Andrew Leigh.
As Assistant Professor of Economics at George Washington University Steven Hamilton wrote: "It's completely hollow for Labor – which has been lamenting the end of JobKeeper and calling for its return all year – to now have a whinge."
But worst of all, after praising JobKeeper, Labor under its leader Anthony Albanese is now seemingly proposing that hardworking Australians who received JobKeeper – cafe owners, bar staff, retail workers – be retrospectively forced to pay back this vital economic support.
This proves that whether Labor is led by Albanese or Shorten, they still don't understand small business.
Instead of celebrating our small business success stories in the worst economic crisis in a century, Labor want to tear them down.
Through their retrospective assault on JobKeeper and attacks on aspirational Australians, they now appear doomed to repeat the mistakes of history.
Chris Richardson also said this week that "JobKeeper wasn't perfect. But it was bloody beautiful."
(The West Australian, 20th September 2021)
Bloody beautiful is right, Chris. And the attacks by the Labor Party on JobKeeper are bloody shameful.