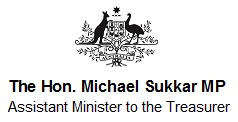 PACIFIC ISLANDS FORUM ECONOMIC MINISTERS MEETING
Today I will be travelling to Suva, Fiji to represent the Australian Government at the 2017 Pacific Islands Forum Economic Ministers Meeting (FEMM).
Bringing together members of the Pacific Islands Forum and observers from a number of developmental partners, the FEMM is the only Pacific region forum of economic and finance ministers, providing an important opportunity for Australia to engage with our counterparts and discuss economic challenges and opportunities in the region.
Australia's participation in this meeting highlights the Government's ongoing commitment to support economic development and prosperity in the Pacific.
This year's Forum will focus on 'Financing for Development Solutions' and will explore a range of issues, including Pacific regional development priorities and possible options for countries to finance their economic development goals.
There will also be a particular focus on natural disaster risks in the region and associated disaster finance, including ways to effectively engage the private sector to access finance.
I look forward to this opportunity to work with my regional counterparts and to progress economic outcomes in the Pacific region.
Media contact: Julianna Burgess – 0428 401 559