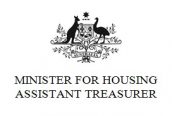 RECORD $192M IN AFFORDABLE HOUSING FINANCE DELIVERED IN VICTORIA
The number of new affordable homes being delivered by the Morrison Coalition Government has exceeded 1,000, with Victorian community housing provider HousingFirst receiving the largest Affordable Housing Bond Aggregator loan to date.
Delivered through the National Housing Finance and Investment Corporation (NHFIC), the $72 million concessional loan will allow HousingFirst to increase the number of affordable homes by more than 275 dwellings, including, more than 200 new builds in St Kilda, Preston, Box Hill and Rowville.
The loan also enables HousingFirst to refinance its existing debt, saving the organisation an anticipated $10.7 million.
These savings can be reinvested in new social and affordable housing and wraparound services for tenants including careers programs, mental health programs, as well as financial and living skills.
NHFIC is a key part of the Australian Government's Reducing Pressure on Housing Affordability plan, announced in the 2017-18 Federal Budget.
This brings NHFIC's total social and affordable housing financing in Victoria to $192 million and forms part of its second social bond issuance, which was raised $315 million last month.
Nationally, in less than 18 months since commencing operations, the NHFIC Board has now approved more than $900 million in concessional loans to community housing providers, potentially saving them more than $100 million in interest and other costs.
Also, since its commencement NHFIC's is supporting the delivery of more than 1,000 new and 3,700 existing social and affordable homes for Australians across the country.