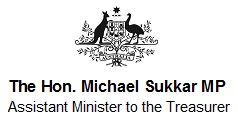 PULLING ADS FOR POLITICAL CORRECTNESS SHOULD BE STOPPED IN ITS TRACKS
It is troubling to see the pulling of an apolitical Father's Day advertisement today.
These advertisements have run in previous years, and the fact that an ad celebrating fatherhood has now been branded as "political matter" is highly concerning.
Decisions like this point to the political correctness we now seem to be stuck on as a country. This is an unacceptable precedent that should concern all Australians.
It is also disappointing to see some of the subsequent comments from media commentators.
They make arguments that the banning is "probably right" as it is a "heterosexual couple" that appear in the ad and it "establishes what could be perceived as a norm".
It is deeply worrying that people are using the postal survey on same sex marriage to silence Australians when it suits their arguments.
This decision to stifle free speech is just the beginning of what we could see from those with an agenda to shut down debate.
The only way to stop this political correctness in its tracks is to vote No in the postal survey.
ENDS