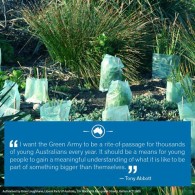 Coalition Announces Deakin Green Army Project
Heatherdale Creek in Deakin will be one of the first sites nationally to benefit under the Coalition's Green Army.
Senator for Victoria, Helen Kroger, joined the Liberal Candidate for Deakin, Michael Sukkar, today to announce that a Coalition Government will undertake to clean up Heatherdale Creek in Mitcham as part of its commitment to build a 15,000 strong Green Army nationwide.
The Heatherdale Creek Rejuvenation Project will remove noxious weeds and replant native vegetation in Simpson Park and on the Somers Trail along Heatherdale Creek to prevent the spread of weed infestation further downstream, enhance water quality and improve the habitats of wildlife.
The project could also include construction of a pedestrian footbridge across Heatherdale Creek and enhanced walking tracks and other visitor amenities.
If a Coalition Government is elected, an army of young environmental trainees will begin work on the Heatherdale Creek Rejuvenation Project. The project will run for up to 26 weeks and deploy nine trainees as well as a supervisor.
Senator Kroger said Mr Sukkar had been working with the local community to identify the best projects that will improve Deakin.
"The Heatherdale Creek Rejuvenation Project is exactly what the Green Army will be about, practical work that improves the local environment and helps improve local communities," she said.
"These projects also provide a terrific opportunity for young people in Deakin to be part of the first intake of the Green Army.
"Every participant in the Green Army will receive a training allowance, as well as gain valuable work skills and potential qualification in different areas of environmental remediation."
Mr Sukkar has been fighting for this project for many months.
"After extensive consultation with the Simpson Park/Somers Trail Advisory Committee, the City of Whitehorse and local residents, I have been fighting for the Heatherdale Creek Rejuvenation Project and see it as a key priority for Deakin," Mr Sukkar said.