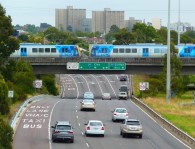 Deakin Commuters Welcome Extra Lanes On Eastern Freeway
Michael Sukkar, Liberal Candidate for Deakin, has welcomed the State Government's proposal to widen the Eastern Freeway to further ease traffic congestion as part of the East-West Link Project.
Mr Sukkar said Deakin commuters were thrilled with plans to build additional lanes on the Eastern Freeway during construction of the East-West Link, a landmark project for which the Federal Coalition committed $1.5 billion in funding.
"People living in Deakin are ecstatic that the Coalition's commitment to the East-West Link will deliver extra lanes on the Eastern Freeway," he said.
"The East-West Link will make a huge difference to people living and working in Deakin who are wasting their precious hours stuck in traffic.
"I join Premier Napthine in calling on Prime Minister Kevin Rudd to match the Coalition's $1.5 billion funding commitment to this landmark project.
"The only way this nation-building infrastructure will be built is under a Federal Coalition Government. Tony Abbott and his team understand how important it is to get traffic moving again to boost productivity and allow Deakin families to spend more time together."
Plans to build additional lanes on the Eastern Freeway, between Hoddle Street and Tram Road, are widely reported to have been included in the State Government's submission to Infrastructure Australia on the East-West Link Project.
The 18-kilometre East-West Link Project will connect the Eastern Freeway with the Western Ring Road and the Eastern and Tullamarine Freeways, with a connection to the Port.
For more information on the East West Link visit www.linkingmelbourne.vic.gov.au.