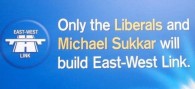 Labor Abandons Melbourne's Eastern Suburbs
Federal Member for Deakin, Michael Sukkar, today joined the chorus of local businesses and residents slamming Labor for its reckless pledge to tear up contracts for the East West Link.
Mr Sukkar said the short-sighted and reckless decision showed an utter disregard for people living and working in the eastern suburbs of Melbourne.
"Labor doesn't care at all about the people who waste precious hours stuck in traffic instead of with their families at home or being productive at work," Mr Sukkar said.
"Labor is solely focused on shoring up a handful of inner-city seats against the Greens, not on what is good for Victoria."
Mr Sukkar welcomed a statement from the Ringwood Chamber of Commerce & Industry, which voiced strong support for construction of the East West Link.
"As the Chamber President Peter Milford said, 'the construction of the East West Link should proceed and at the earliest possible point'.
"Central Ringwood is undergoing a massive transformation, including a $575 million redevelopment of Eastland, so now is the ideal time to build the East West Link," he said
"We want to make it easier for people to visit Melbourne's eastern suburbs to shop and do business, and we want to make it easier for businesses to transport goods across the city.
"The East West Link is a vital piece of nation-building infrastructure, which will create 6200 jobs during construction, ease traffic congestion and boost productivity across the state.
"That is why the Coalition Federal Government has pledged $3 billion in funding to support the Coalition State Government and build this missing link in Melbourne's road infrastructure.
"It is extremely disappointing to see Labor ignore the pressing need for this road, and snub people living and working in Melbourne's east, all for the sake of scoring a few cheap political points.
"It is absolutely clear to local residents and businesses that only the Liberals will build the East West Link.